I know I'm posting this late, but I've had a super busy past few weeks and I'm just now getting around to posting this! Needless to say, I saw a few ideas on pinterest to make cute reindeer snacks! (I pinned only one:
Here
) But I decided to have a go at it on my own! Recreating the snack for myself!
You will need: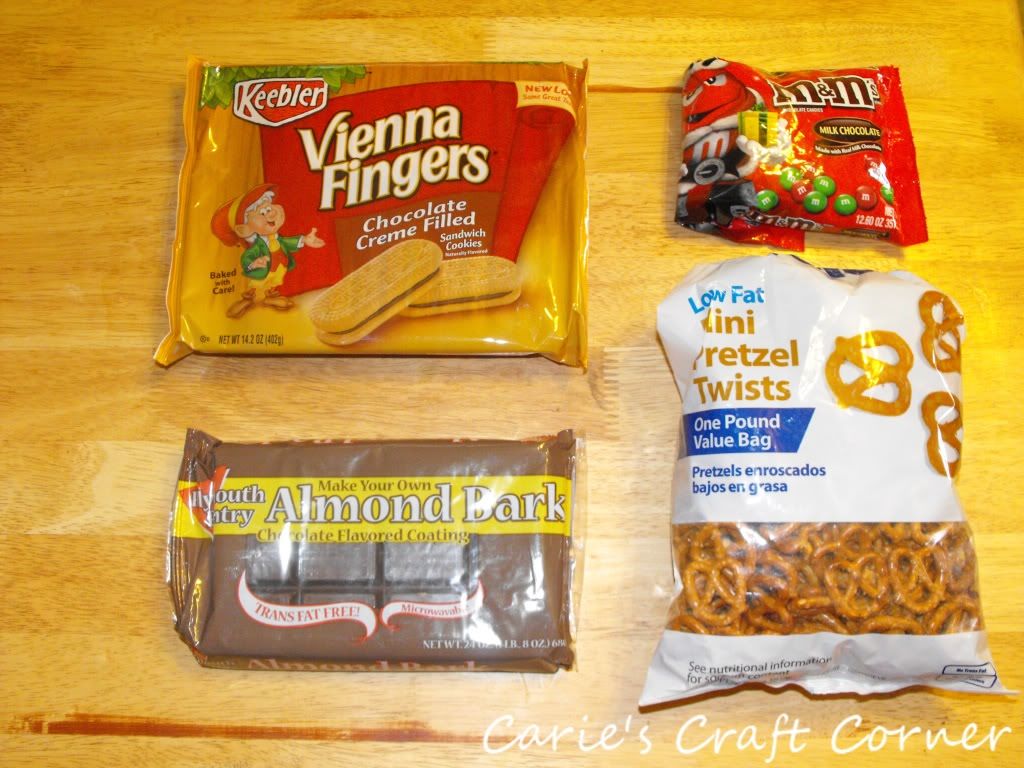 -1 package of nutter butters (our store had them, but they were the circle kind, not peanut shaped, so I had to get the next best shaped cookie and got Vienna Fingers instead... If you can buy the peanut shaped Nutter Butters, BUY THEM FOR THIS RECIPE!)
-1 package M&Ms, green and red
-1 package almond bark, you'll need about half of the entire block
-1 package pretzel twists
-Parchment paper
-1 Toothpick
Set up everything you'll need to get started. First, I put my almond bark in my candy melter. Then I put some parchment paper right beside it on my counter top. I then counted all my cookies so I knew how many of the other ingredients I would need. (My package of Vienna Fingers had 24)
Then I counted out 24 pretzels and cut them to look like reindeer antlers. I cut each pretzel in half with a sharp knife, then gently cut the tips of them off to look like antlers.
Then I counted the number of M&Ms I would need for my snacks. 2 green per cookie. 1 red per cookie. I placed them in their own prep bowl.
After everything was set up and ready to go, I dipped one cookie into the chocolate and pulled it out with a spoon. I gently placed it onto the parchment paper. I quickly attached two pretzels to the top, and place the green and red M&Ms on the face.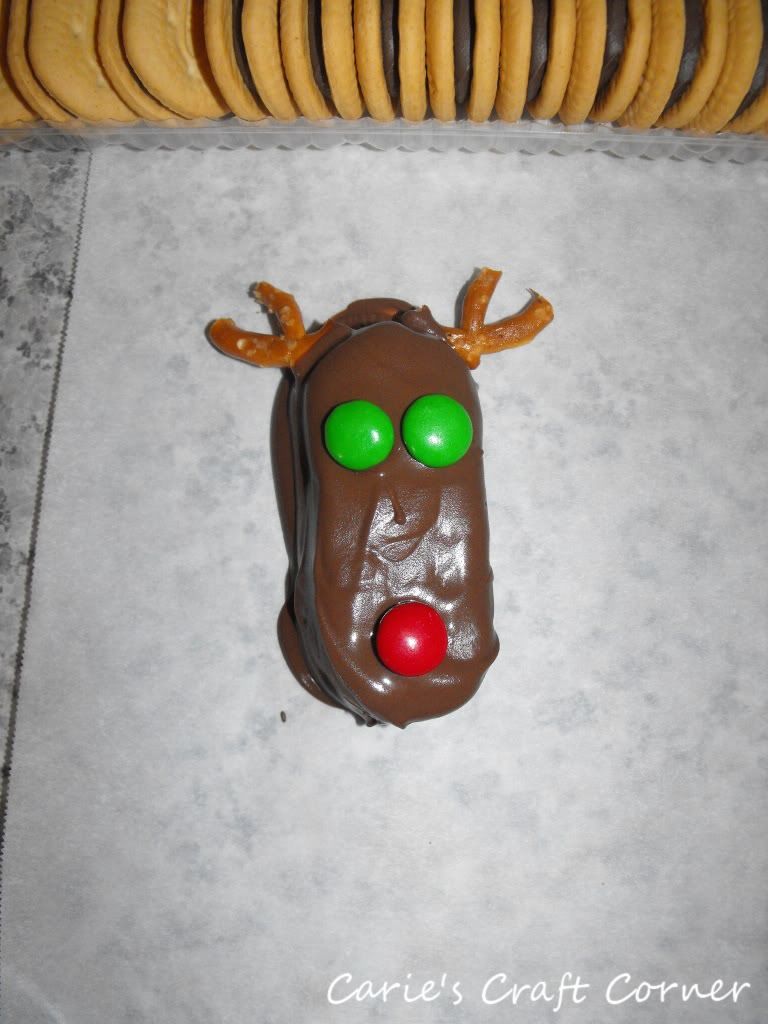 I then took a toothpick and dipped it into the almond bark and placed a drop of it onto each of the green M&Ms to make eyes! (sorry my picture is a little blurry)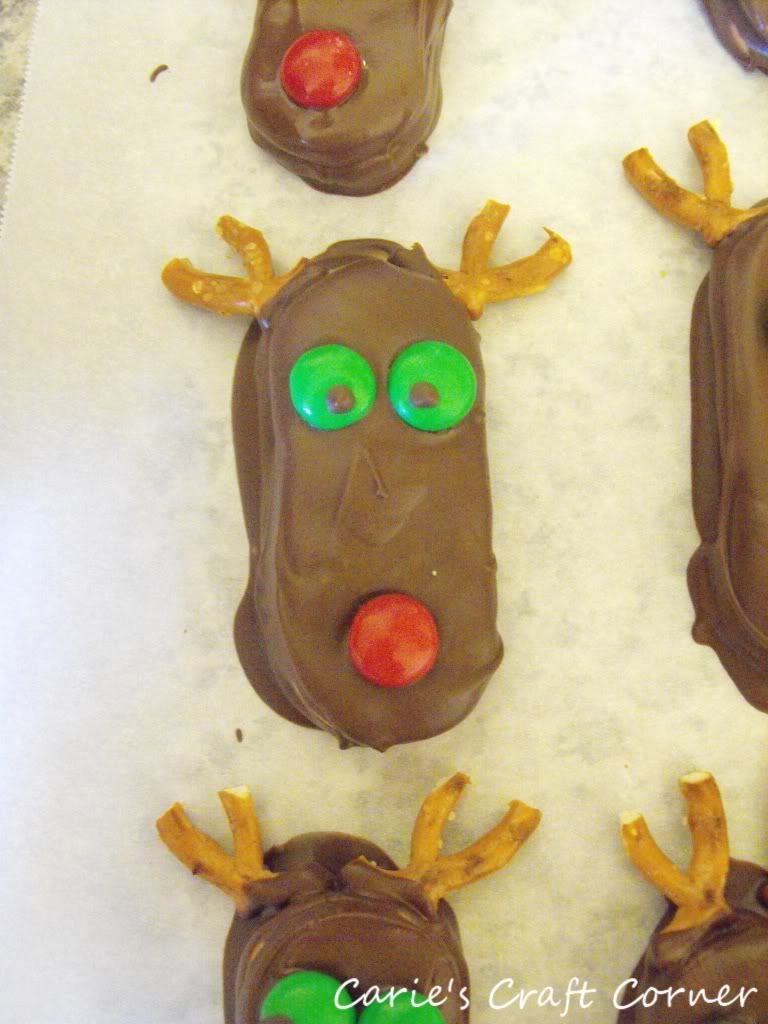 And you're done! Let them cool for at least an hour or longer, then place them into decorative containers or arrange them on a party platter! ENJOY!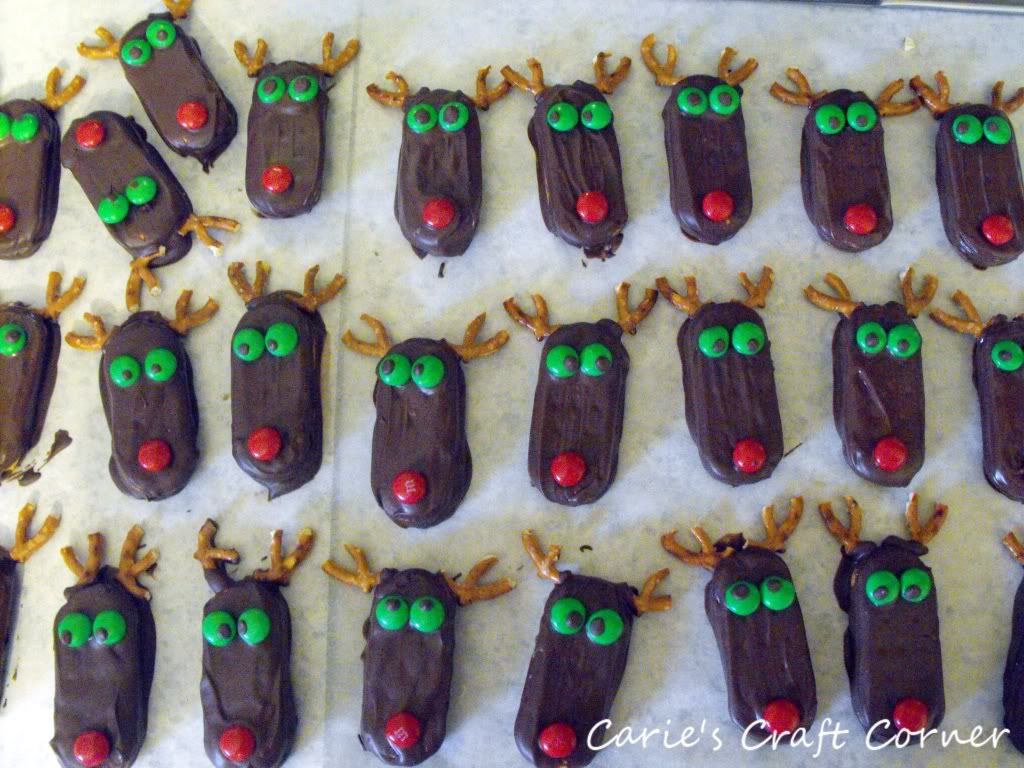 I hope you all had a very Merry Christmas in 2011! I will be posting more crafts soon! But as a mother of three small little ladies, my time is precious! I generally craft during their naps and after they've gone to bed! But I have many projects that I'm working on and I'm excited to share them with you!
Happy New Year, 2012! Have a blessed and happy year!
Happy Crafting!