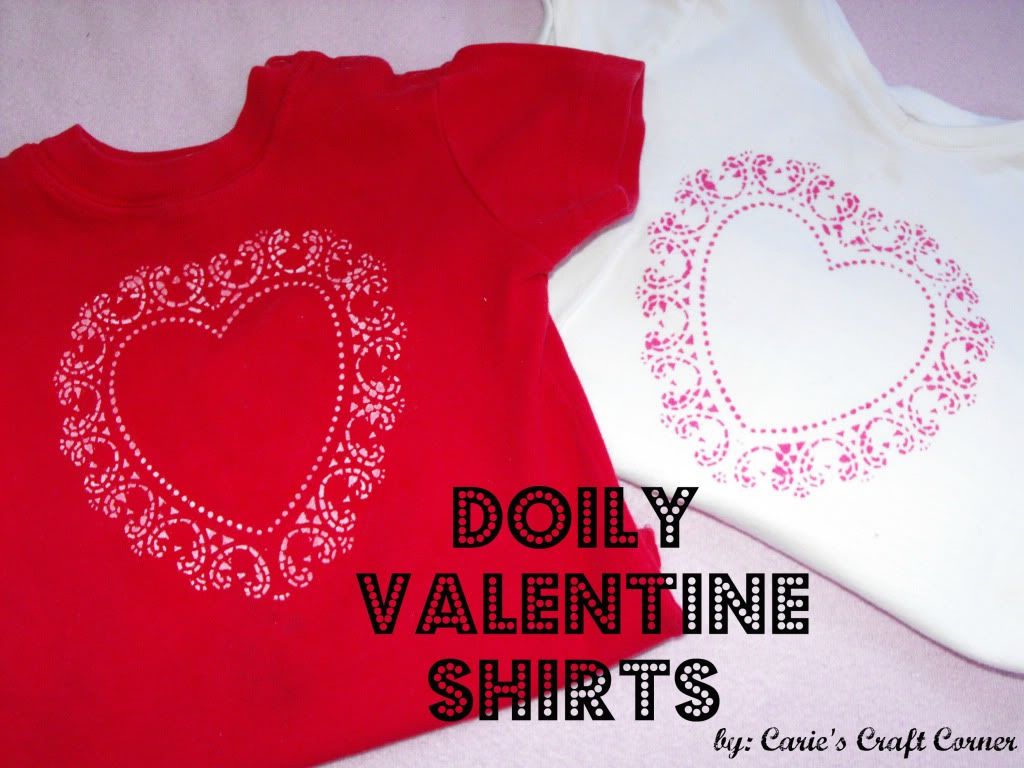 I found this easy project to make
Adoily-able T-shirts
the other day and knew it was something I could do! I LOVE Valentines day and all the super cute t-shirts for kids that the stores carry, but I can't afford them most of the time. So I am all about the DIY shirts that I can do at home! I thought these turned out SUPER awesome! And my girls LOVE them!
For this project you will need: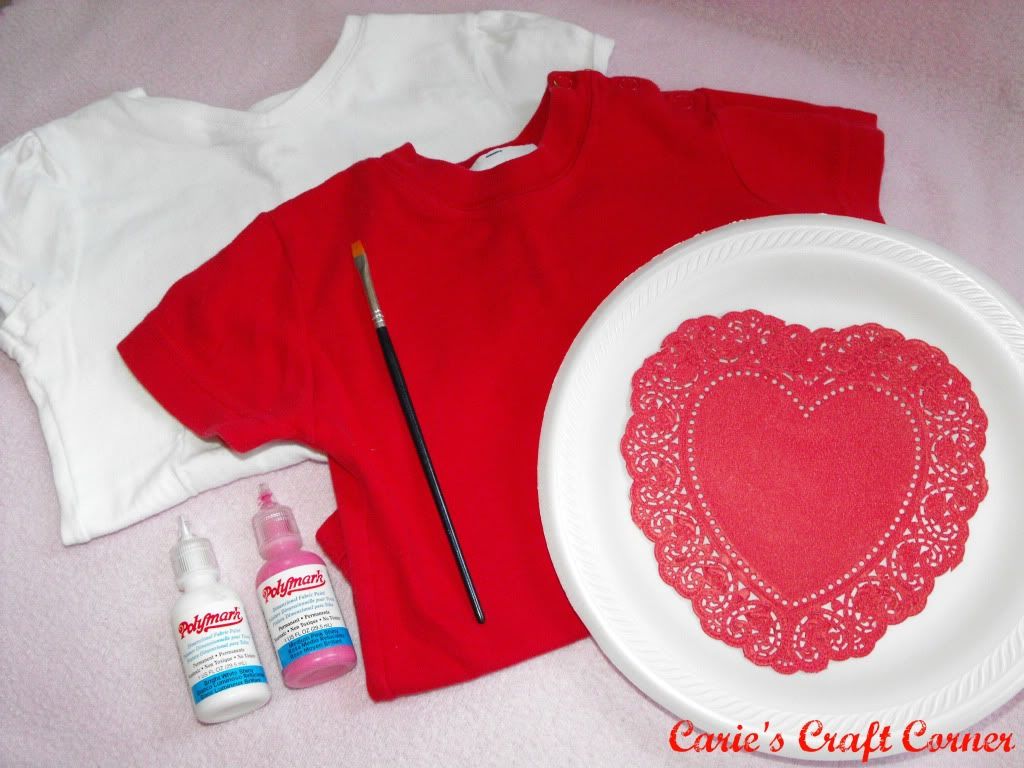 -Prewashed T-shirt (I'm using shirts for my daughters)
-Valentine Doily, 1 per shirt (I bought mine at Walmart for $1.88 for 40)
-Puffy Paint
-Paint brush, I would recommend you use a foam brush, but I used what I had in my house.
-Disposable plate
-Glue Stick
-Newspaper
First thing I did was punch out all the paper bits that didn't get punched out the entire way. You can see the bits in the picture below: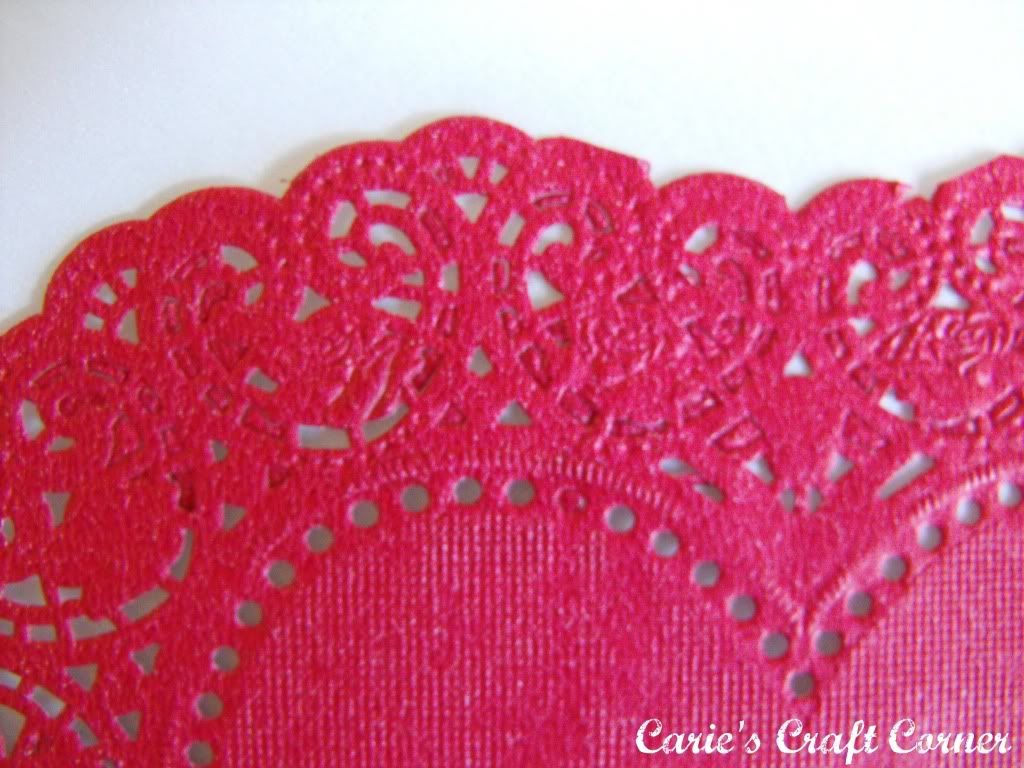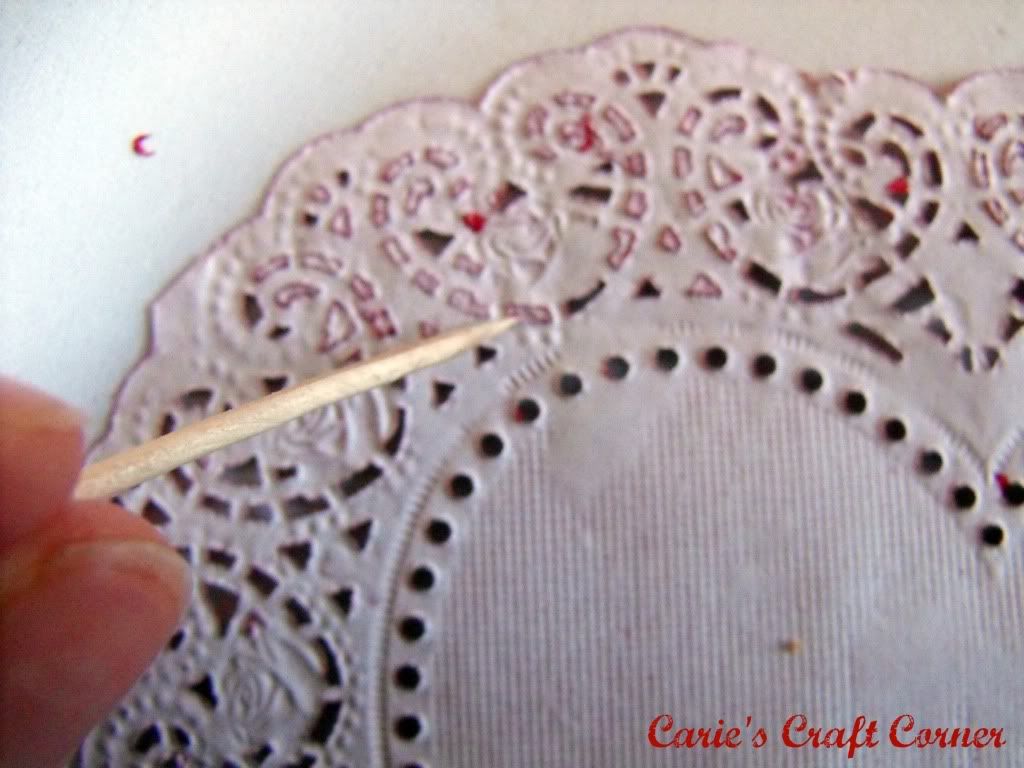 I got out my trusty toothpick and poked the rest of the bits out!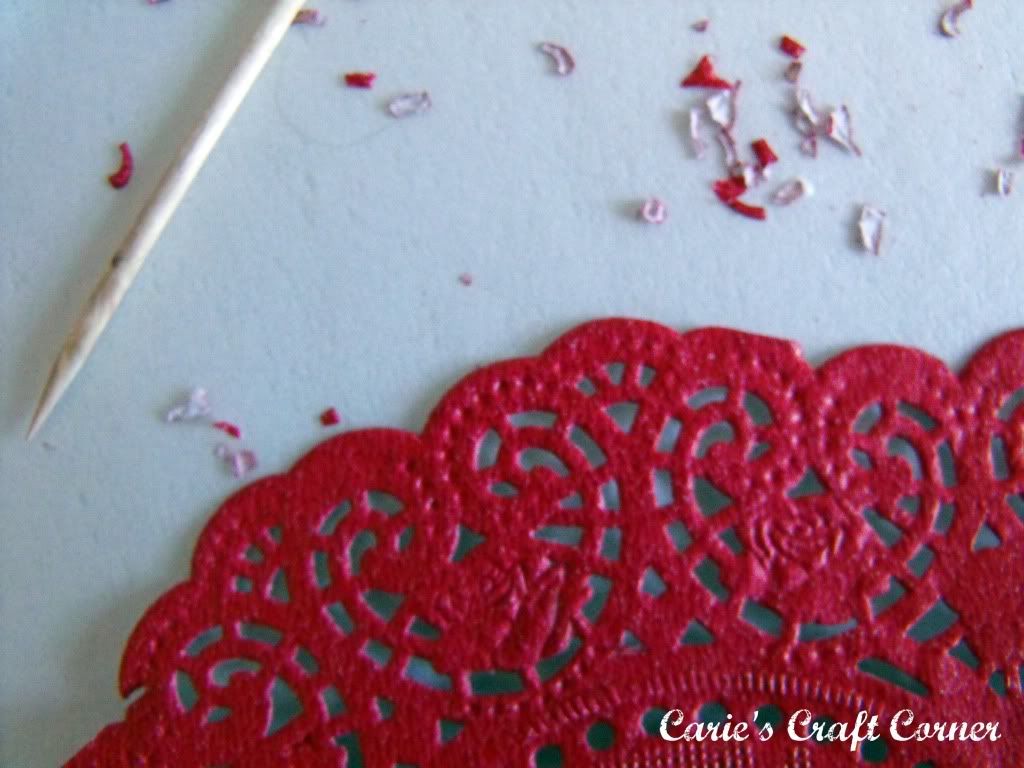 Much better!
After you get all the bits out, you are ready to begin! Lay out your shirt on a flat surface and place a layer of newspaper in the middle of the shirt so that if the paint bleeds through, it won't ruin the back of your shirt. Place a thin layer of glue on the middle of the back of the doily. Place the doily on your shirt, sticky side down.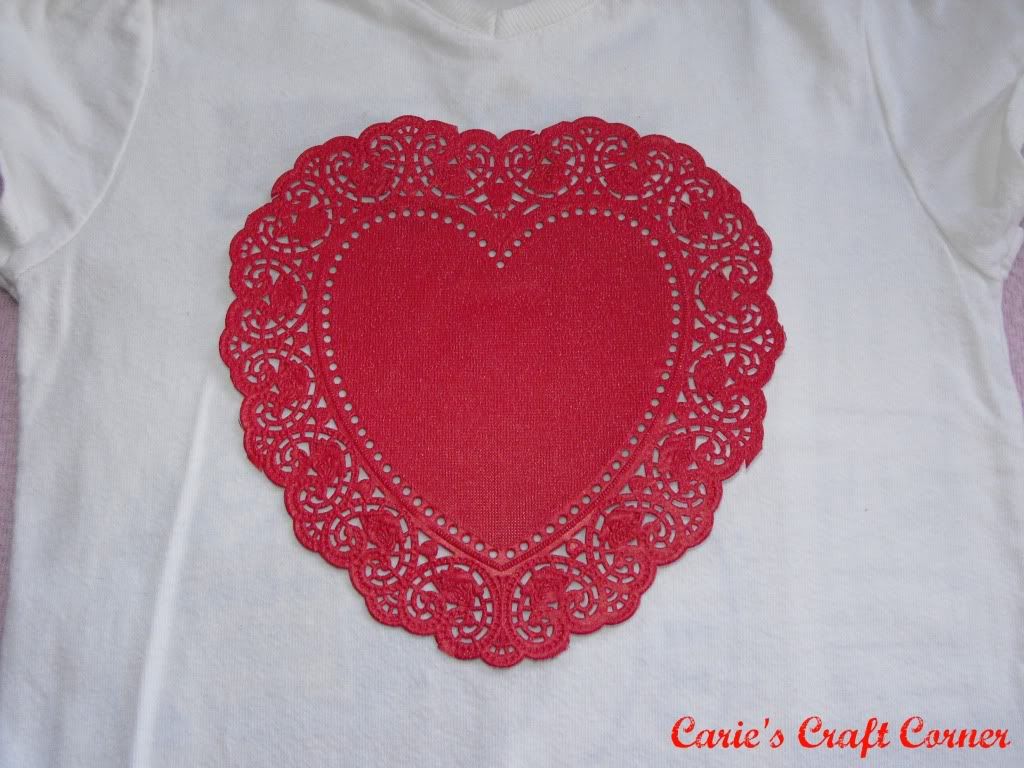 Put some puffy paint on your disposable plate and load your brush up with the paint. Enough to coat the brush but not overload it. Paint in the holes of the doily with your brush. Dab as you go and make sure you fill in each hole completely.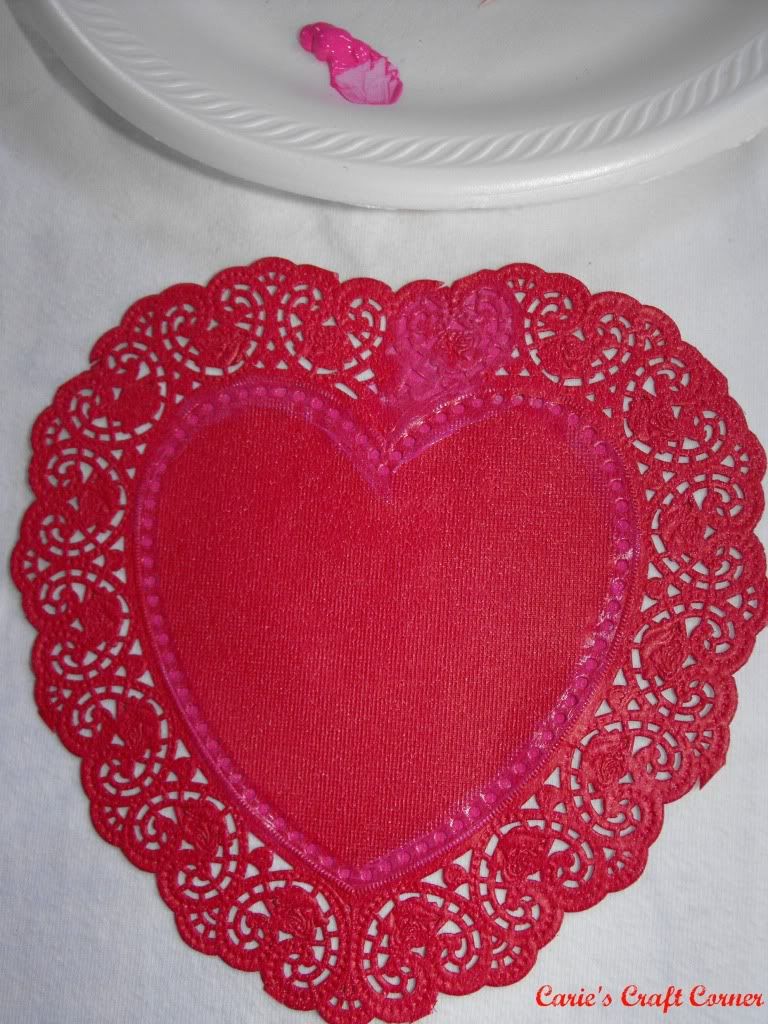 Pink Puffy Paint on the White T-shirt
I didn't take a picture of the white shirt filled in with the pink paint because I got too excited and forgot... But I did remember with the red shirt!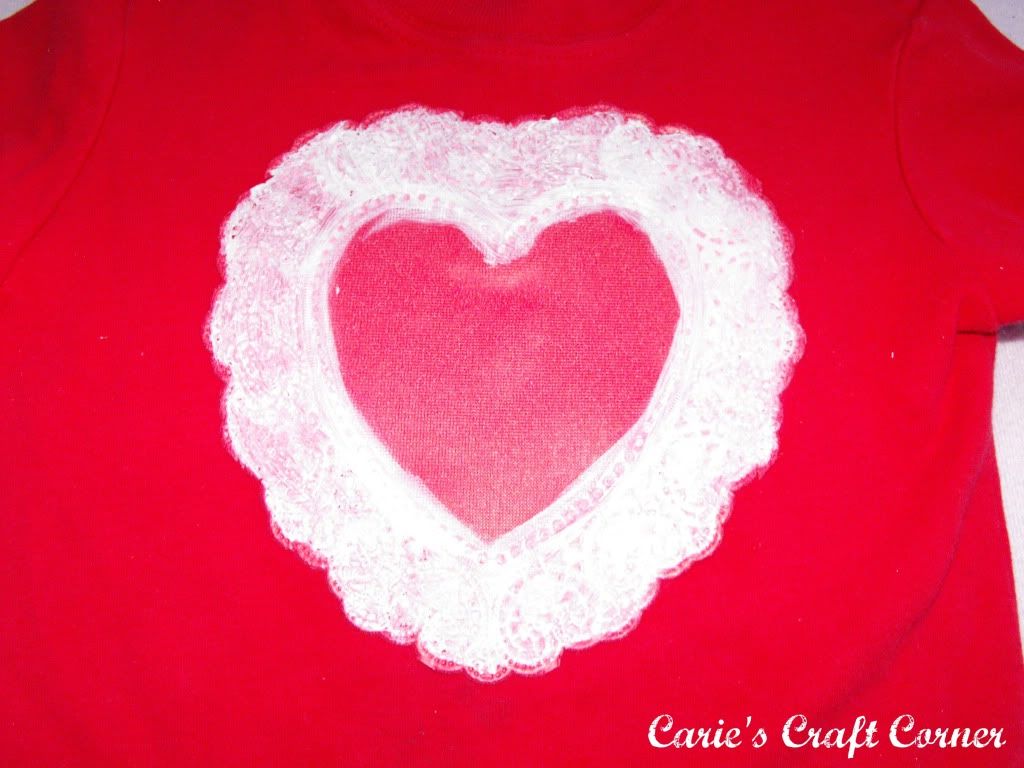 Work quickly because you do not want the paint to start drying. Carefully pull the doily off the t-shirt and make sure not to tear the doily in the process. This happened to me with the white shirt and I had to go through and pick the dried on doily... it was frustrating. But I had way better luck with the red shirt!
There you go! Let the shirt(s) dry for at least 48 to 72 hours and set the paint according to the directions on the paint you used. Wash. Dry. And wear! Happy Valentines Day!
Happy Crafting!