When we moved in, we decided to start with the downstairs bathroom first. It's a small room and we figured that it wouldn't take us that long to finish. (Hahaha.. ) Here are the before photos:
We really liked the design, but we had already bought all the things we'd need for our bathroom in our first home when we got married. SO this needed to go. We realized really quickly that we got in over our heads with this bathroom... here's why!
We started by removing all the molding, paneling, tiles, and more until we found the wall paper! Once we found it, we started tearing the first few layers off.
Our Pomeranian, Max, in the tub!
We started by tearing off the wall paper only to find that there was
15+ layers
of it.. Talk about a LOT of work.
Most of the torn wall paper.
We took down all the laminate wall boards, siding, molding, tiles, and more so that we could see the dry-wall!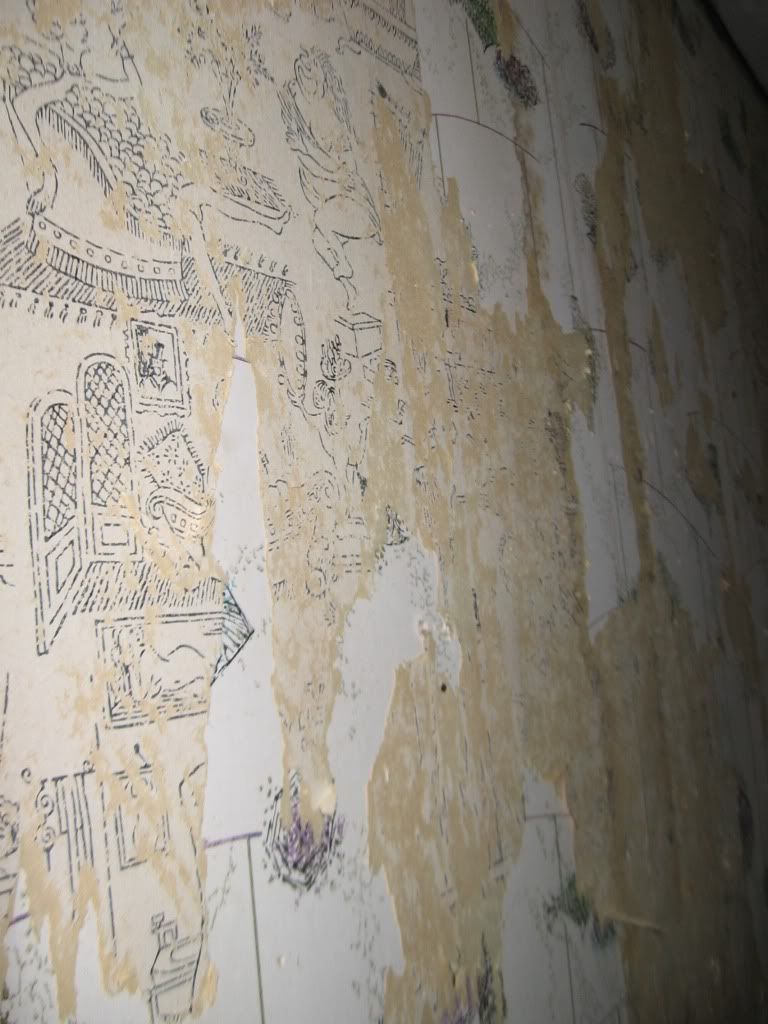 Still trying to find the dry-wall...
WE FOUND THE DRY WALL!
We finally got down to the dry wall! When we finally got down to the VERY first layer of wall paper on our walls, it was quite the surprise. What was it, you ask? Naked people, of course!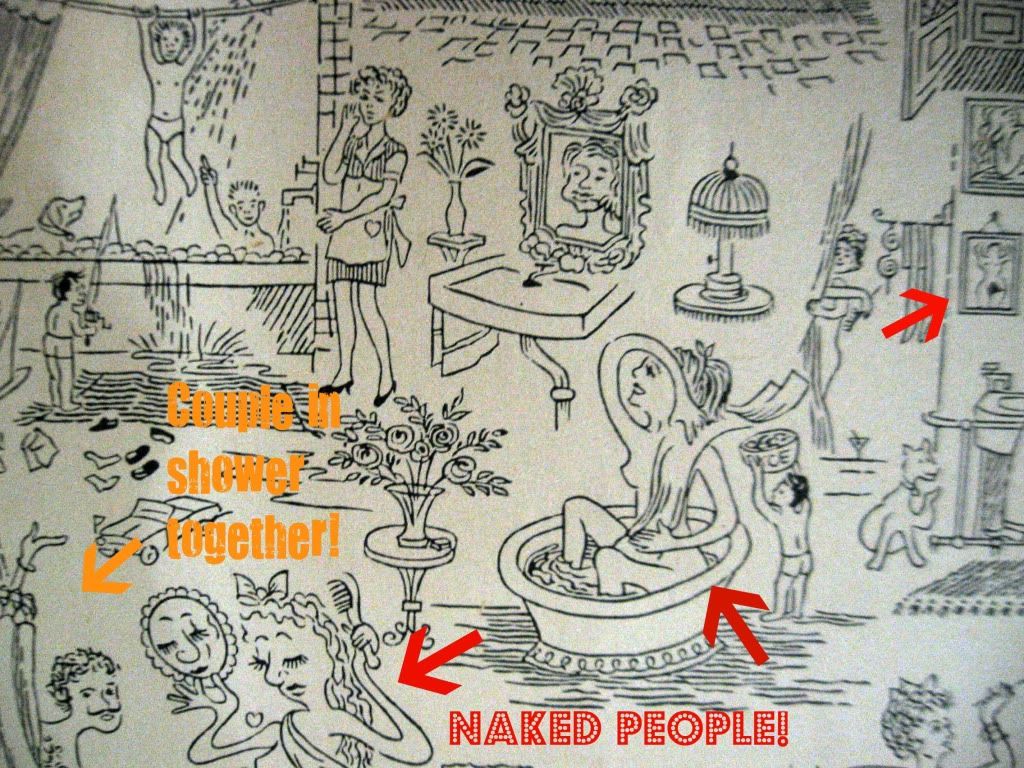 There was a lot of naked-ness on our walls... it was quite HILARIOUS!
Best. Find. Ever.
We couldn't get it off the walls! We decided to start taking out some other stuff so I could make some calls to ask for tips and help.
Charles decided to tackle taking out the sink and it's stand. We bought a pedestal sink that was much more "our style". What did we find once it was removed?!
MORE TILES TO REMOVE! Will it ever end?! So we started in on removing each and every single tile. It was quite meticulous and extremely frustrating. But we eventually got them all off. Seeing the tile floor through the carpet was a blessing in disguise. We pulled up the entire carpet from that point on!
It was SUPER dusty and a bit moldy, so we had to wear our sexy safety masks! We decided to snap a picture of how awesome we looked!
Makes me laugh! We are such nerds! Once we got all the carpet and junk out, we could FINALLY see the floor!
That's when we called it a night! Not bad for our very first day in our new home! Although we didn't move in for a few weeks! We stayed the night on our new couch in the living room!
The next day. we ended up borrowed a wall paper remover tool from my sister-in-law. Made to process MUCH easier!
Me hard at work! It took a good 4 hours to go around the ENTIRE bathroom this way, but it was very worth it! We were then able to determine what walls needed redone and what to do next! The wall that held the medicine cabinet needed to be replaced. I didn't get a picture of the wall off because I was out shopping for a paint color, but I got one when Charles was filling in the nail holes when I got home!
What's written on the walls?! Haha! It's a little cheesy... but I'll share it with you! We wrote a love note to each other that, yes, was to be covered with primer and paint, but we wanted to make the very first new wall in our new home "ours". Cheesy, yes. But that's how we roll! Pen ink seeps through primer, so we made sure to put it where the medicine cabinet would hang, just in case it seeped through the paint.
Mine included a house with us on the inside and our two cats and our dog on the outside!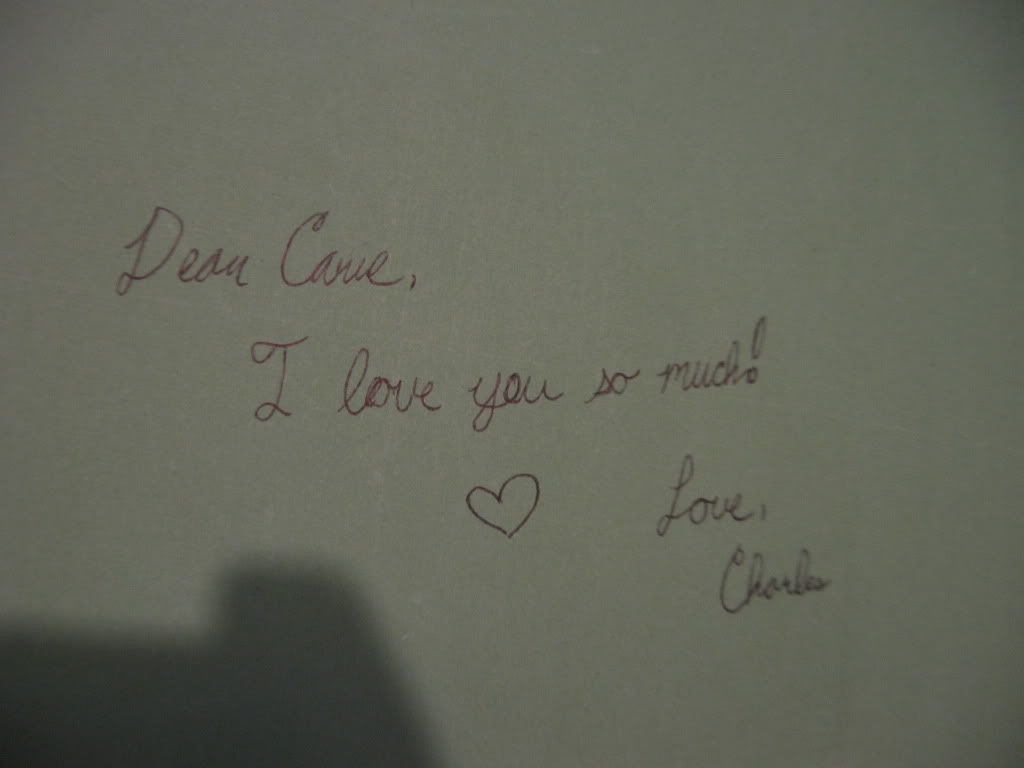 He even drew the heart! I love that guy!
We put a new wall up next to the toilet, too, but I wasn't home for that! So no picture :( Sorry... I also have no picture of the first layer of leveler that Charles put on our floor. Anywho... After all the walls were wall paper free, put up, and new again, we put up painters tape and got started on the primer!
Charles was being silly will his saw... so I snapped a picture!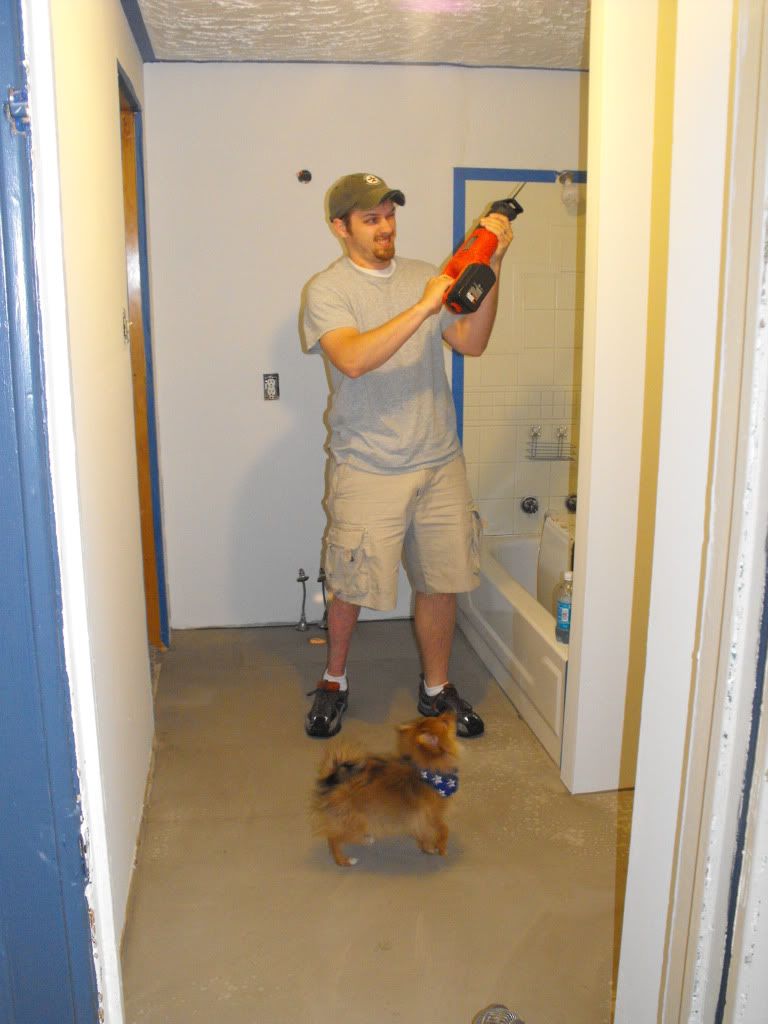 Max rocking his cute neck bandanna!
After everything was dry (walls and floor) I busted open our AWESOME new paint and got started on painting our walls! The color is Field Green and we bought it from Wal-Mart.
The reason behind the color! It matched our shower curtain, but it has about 5 other colors ranging from sky blue to dark grey. I wanted our bathroom to "POP" and make it a place our future children would want to go into to use the potty, bathe, etc. Green it was!
Hubby doing the high work!
GREEN!!!!
Blue painters tape removed!
Next, we pulled the doors, shelves, and borders off and out of the cabinets to strip them of paint and refinish them with solid white. We found more nudie people wall paper in there! HILARIOUS!
Nude people EVERYWHERE!
While I was working on that, Charles started putting down our white tiles on the floor. When he got near the toilet, he noticed that the floor was sagging some. So he decided to take out the toilet and see the damage... it was very noticeable.
"Oh great..." said Charles!
We had some severe "buyers remorse" going on here...
He worked very hard and repaired all the wood and made it all better! He was able to reinstall the toilet and it looked fantastic!
He then got started on putting up the white molding around the floors, doors, and ceiling!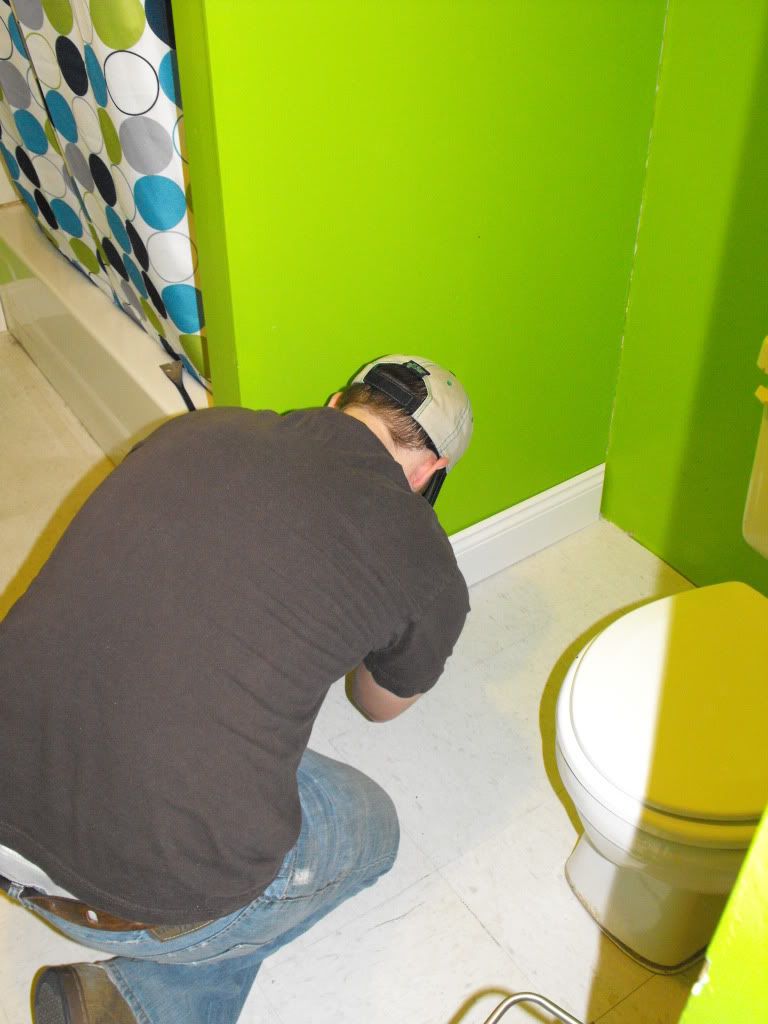 You can see our shower curtain that inspired the green color!
This is where our project stopped! We found out at the time that I was expecting our first baby and we decided to then focus on our living room becuase it was a much bigger project and we both needed to work on it together before I got too big to bend over and kneel!
To this day, we still have a little bit left, but it will be done soon! Then I will post the big reveal!
Happy Remodeling!