When the discussion for my husband's 28th birthday came up, I knew exactly what I wanted to do for him! I asked him what he wanted to do and he said, "I want a Star Wars party!" YES! I was relieved! Thanks to Pinterest, I was able to find some amazing ideas to host a Star Wars themed party! It took me an entire week to come up with everything and plan out his party, but it all came together flawlessly!
Darth Vader display with the sign I made!
I started off looking
here
for his cake pops, then
here
and
here
for his party setup.
I decided to make my own labels for the food, since I was on a tight, tight budget. I found Star Wars fonts
here
and simply downloaded them. It took me a little bit to get the hang of the commands needed to make the box around the words, but I figured it out! I then decided on a menu and dessert table so that I could make and print my list of words for the food. Since it's been crazy warm this winter, we decided to pull out the grill to cook our supper! I looked on
Wookiepedia
to help come up with clever names for the food, but here is what the menu consisted of:
Han Burgers - Hamburgers
Battle Droid Brats - Brats
Boba Fett Bread - Hamburger and Brat Buns
Chewie Cheese - Cheese Slices
Tatooine Tomatoes - Sliced Tomatoes
Outer Rim Onions - Sliced Red Onions
Lando Lettuce - Lettuce
Korriban Ketchup - Ketchup
Millennium Falcon Mustard - Mustard
Tauntaun Tots - Tater Tots
Corellia Carrots - Carrots
Confederacy Celery - Celery
Skywalker Ranch Dip - Hidden Valley Ranch Dip
Lightsabers - Pretzel Rods dipped in Red and Green Candy Melts
Wookie Cookies - Chips Ahoy Chewy Chocolate Chip Cookies
Thermal Detonators - Whoppers
Leia's Buns - Honeybuns
Yoda Soda - 7UP and Lime Sherbert
Bantha Blue Milk - Milk with Blue Food Coloring
It was fun coming up with the names! My favorite was "Skywalker Ranch Dip" because we are HUGE fans of the movie
Fan Boys
and their quest to storm Skywalker Ranch! Anyways! I typed up the names and printed them off, cut them out, and pasted them onto a thick yellow scrapbook paper. (You will see the finished project as you read) Here is how I made the cake pops, lighsabers, and set up the party!
I checked out the book on Cake Pops from the library and wrote down the recipe to make cake balls. One normal cake (13x7 inch) will make about 48 cake balls. I decided to make 4 different characters from Star Wars because I am the mother of three kids under the age of 3 and I am limited on free time! Since cake pops take some time to make, I wanted relatively easy ones to make. I decided on making Han Solo, Luke Skywalker, Princess Leia, and Chewbacca. I even drew out a rough sketch!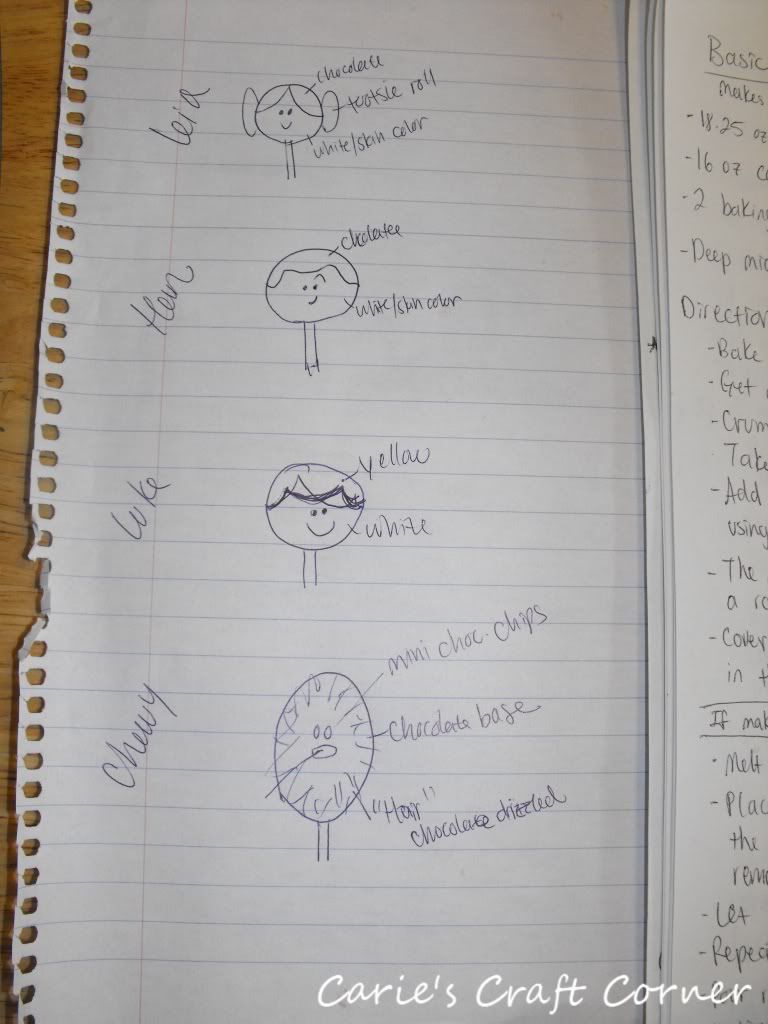 I did change up the final design details. More on that as you read.
I had Charles pick out the cake and frosting he wanted for the cake pops and baked the cake according to the package directions. I let it cool for about 5 hours. I cut it into four sections. I pulled two sections out and rubbed them together over a large bowl. The parts of the cake that needed some help breaking down I tore apart with my fingers. I took the last two parts of the cake out and did the same thing. This is what it looked like when I was done breaking the cake apart:
It was pretty amazing looking! I then added 3/4 of the container of frosting (pictured in the background of the photo above) and mixed it with a large rubber spatula until it was the consistency of meatloaf. As in, it could stick together and still be pliable. I then grabbed a small amount and rolled it between my palms to form a ball. I measured each ball to be sure they were about 1 1/2 inches in diameter.
I'm pretty OCD about things like this! I wanted to be sure I would have enough cake to make all 48 cake balls! I placed them on a cookie sheet lined with parchment paper. I did 36 balls, and shaped the last 12 into ovals for Chewie's head. I covered both cookie sheets with saran wrap and put them in the fridge for 5 hours. I waited until after my girls were asleep for the night to start decorating the cake balls. I set out all my ingredients first.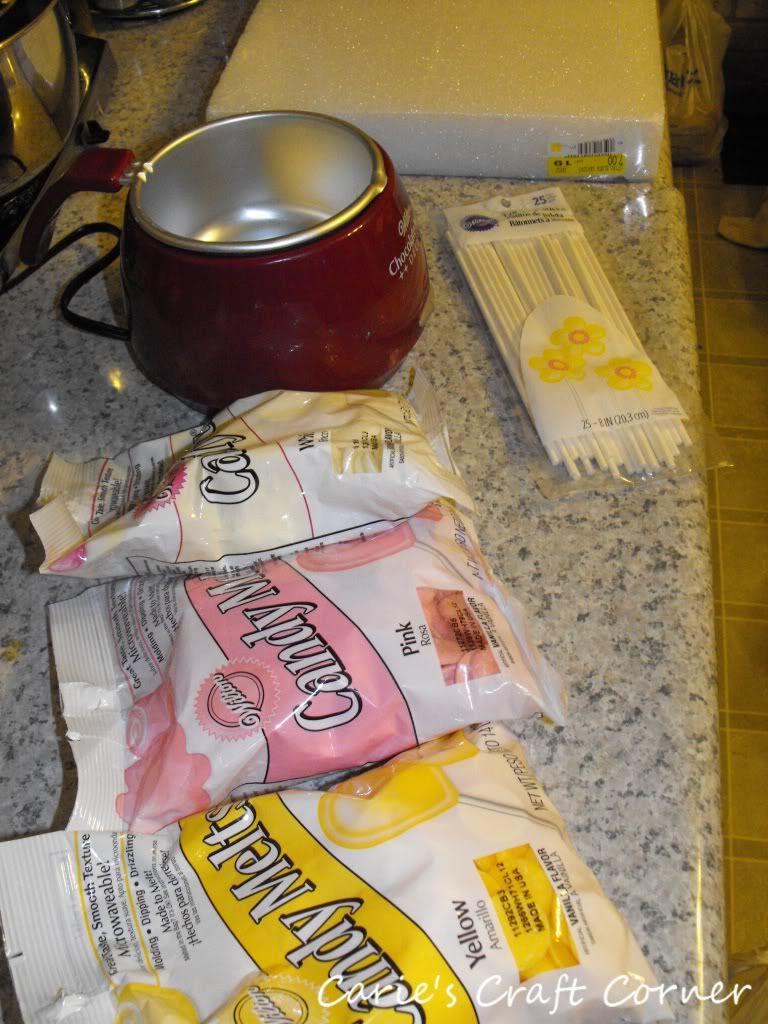 Candy melts, Candy melter, Cake pop sticks, and a Styrofoam rectangle
I looked up online how to make "flesh" color with candy melts. I counted these out for my small chocolate melter, but however many you use, you want an equal amount of white, yellow, and pink candy melts. I did 50 of each color inside my candy melter.
I turned it on and set up everything I would need to keep things flowing once I started decorating. It started melting and I thought it looked neat! Thus the picture below!
Haha! I'm kind of a nerd like that! After it all melted, I turned my melter onto the warm setting and pulled out 4 cake balls at a time so that they would stay cool. I dipped one cake pop stick into the melted candy and stuck it into one cake ball. Make sure you stick it in far, but don't poke it out the other side. I then dipped the ball into the melted candy and tapped off the excess. I placed the cake pop into the Styrofoam block to dry. I repeated the process until all the Han, Luke, and Leia pops were dipped. This is what the finished "flesh" colored pops looked like!
I decided to make Leia's buns next. I wanted to be sure they were finished before I melted any more candy to make her hair. I poured what was left of the flesh color into a small glass bowl and set it aside. I cleaned out my melter and set it back up for the next melting project. For Leia's buns I unwrapped 2 tootsie rolls per head. (I needed 24 tootsie rolls total)
I put them into the microwave for 7 seconds. Microwave ovens vary, so be sure NOT over cook the tootsie rolls! If you do, they will turn into a puddle and need to cool off before you can handle them. I learned this the hard way... Roll one warm tootsie roll between your hands to make a long piece like this:
Then roll it into a bun. Set it on a cool plate or onto parchment paper. (I set mine onto the cookie sheet used for the cake balls.) Here are what they should look like:
This is the part that makes me sad... my camera died! So I have no pictures of how I decorated any of my cake pops. I was pretty devastated! I will, however, tell you how I decorated each one and show you the final product! I realized that I never picked up what I wanted to use for Chewie's face, so I improvised and melted one tootsie roll, rolled it between my hands, then pinched a little ball off and made it into one of his eyes. Repeat for his other eye. Then I pinched a bigger piece off for his nose. I made it into an oval shape. I made enough to make faces for the 12 pops.
I melted the chocolate candy melts next because I would need them for Leia and Han's hair as well as for Chewie's color and hair. I pulled out 4 cake balls at a time, dipped the candy stick in the chocolate, then into the cake oval, and dipped it into the chocolate melt, tapped off the excess, put 2 tootsie roll eyes and 1 nose on each head, and placed them into the Styrofoam block. I had one cake ball fall into pieces in the middle of dipping... I was super sad... but I turned it into something funny! Keep reading!
I counted 12 cake pops for Leia and dipped each one on both sides and a little on the back to make her hair. As soon as the excess chocolate was off, I quickly placed one tootsie roll bun on each side of her head. I waited until I was sure it was secure, then placed them back into the Styrofoam block to dry. I don't have the pens with edible ink to draw on cake pops, so I used a new paintbrush and used black and red food coloring to make Leia's face. Here she is!
For Han's hair I dipped both sides of his head into the chocolate and dipped the top to make a line of chocolate across his forehead. I used a toothpick dipped into chocolate to make his hair look wavy. Be careful when you do this, because it is very easy to swirl the chocolate with the flesh color and make a mess of his hair! I waited until the chocolate was set just enough to not pull up any flesh color. I also drew on his face with the black food coloring. Here he is!
I popped my flesh color back into the microwave to start on the next one. For Chewie, I dipped a spoon into the chocolate and drizzled it around his face. I then took a toothpick and dipped it into the flesh color and make stripes with it around his head to make it look like hair. This took longer than I was hoping for. But it was well worth the effort! Here he is!
When I was done with the 11 whole Chewie cake pops, I had a brilliant idea to use the one cake ball that had fallen apart! I went ahead and decorated it like the others, minus the eyes and nose, broke the cake pop stick in two, and this is what it looked like!
This is why Chewie shouldn't play with thermal detonators! Just sayin'...
I decided to pack it up for the night because I was super tired and needed some sleep before I started on Luke in the morning. I got my camera working for a second and snapped this picture of the Han and Leia Cake Pops.
I woke up early the next morning (Charles went and bought some batteries for my camera), melted my yellow candy melts, and did the same thing for Luke as I did for Han's hair. Here is how Luke turned out!
Here is my display of Cake Pops! I was pretty proud of myself considering I have NEVER made Cake Pops in my entire life! Go me!
I made the lightsabers next. I got halfway done with them before I remembered that the camera was working! But for the most part, I melted the candy melts in a small glass prep bowl, used a spoon to spread the melted candy onto each, tapped off the excess, and laid them onto parchment paper on the counter to dry. Here are some completed and some not.
After that I decided to start setting up the table. My kitchen is super small, but I made the most of the space that I had. I turned my kitchen table and put it up against the wall and covered it with a black table cloth. I got Charles' Darth Vader display and set him up behind the table. I stuck a quick "Happy Birthday" sign on him. He looks pretty scary...
I set out the cake pops next with their food tags.
Then I put the Lighsabers into their box wrapped with aluminum foil.
I then filled up Charles' Darth Vader candy jar with the Thermal Detonators.
I then put out Leia's Buns.
I then set out the carrots, celery, and dip
I then set out the Wookie Cookies.
The party table was ready to go! It was hard to keep my girls out of the cookies until after the main course, but I let them have one or two to keep them calm!
Charles fired up the grill and started cooking the Han Burgers and Battle Droid Brats! When I went to slice the Tatooine Tomatoes, they fell apart because they were rotten. Sad. So we didn't set them out, obviously... but we had Korriban Ketchup! Here is the set up for the main course.
Last, but not least, we had to set up a TV tray for the drinks! It wasn't as classy as I had hoped... I debated covering it with aluminum foil... but I didn't! It was just family and close friends who came! So I just rolled with it!
We had a great turn out! We put on Episode IV: A New Hope while everyone ate. The Cake Pops disappeared, lightsabers clashed, and the force was strong! I really enjoyed how everything turned out! I am looking forward to doing another awesome Star Wars party for my husband's next birthday! We're going to go all out when he turns 30 and have a Star Wars costume party!
Yeah... We're that awesome!
Happy Partying/Baking/Decorating/Crafting!