I started off February with the
14 Days of Valentines
for my husband! And let me say, the first day he was so surprised that he was beaming with happiness! I put the first gift in his car, but everyday afterwards, I put his gifts on the kitchen table for him to see before he left for work in the morning. He was always excited to go to bed to find out what I had left him the next morning! It was a lot of fun and I know he enjoyed his gifts! (As did our girls! They got to help Daddy eat some goodies!)
Here are all the goodies he got:
I also made my daughters some cute
Doily Valentine Shirts
that they looked absolutely cute in on Valentine's Day! They were super simple to make and only took me 15 minutes!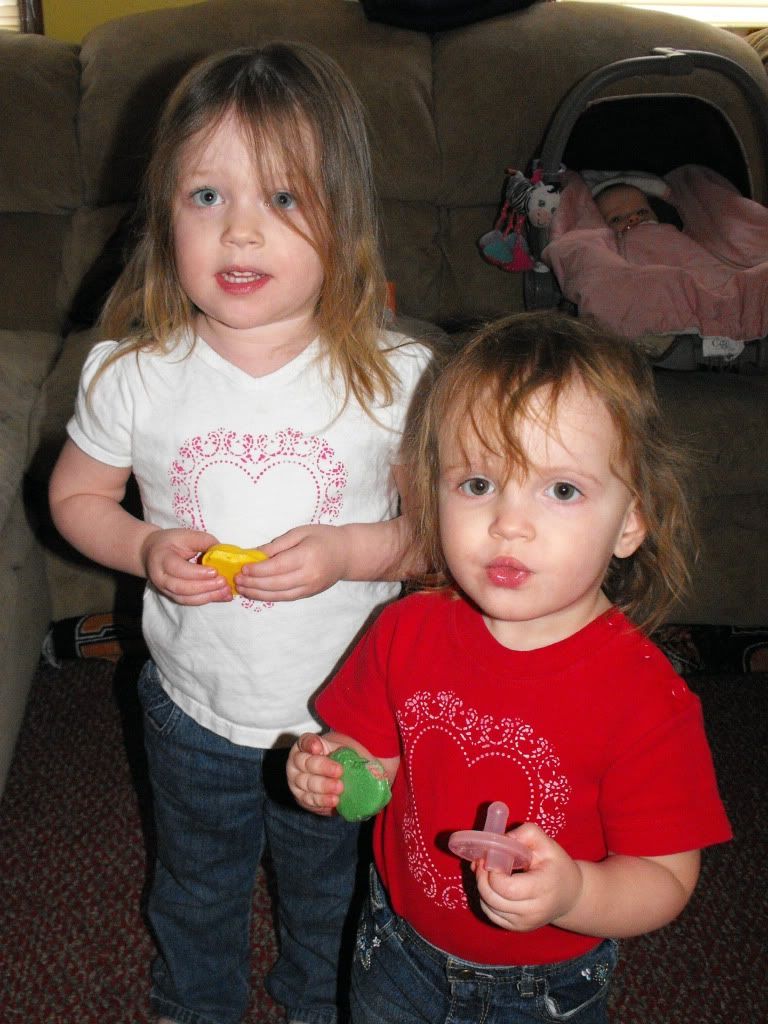 I decided to make some cute Valentines for the Grandparents of my girls, we decided to go with a design similar to what we found
here
. I tweaked it a little and made it our own! The girls had so much fun making these! I thought they turned out fantastic!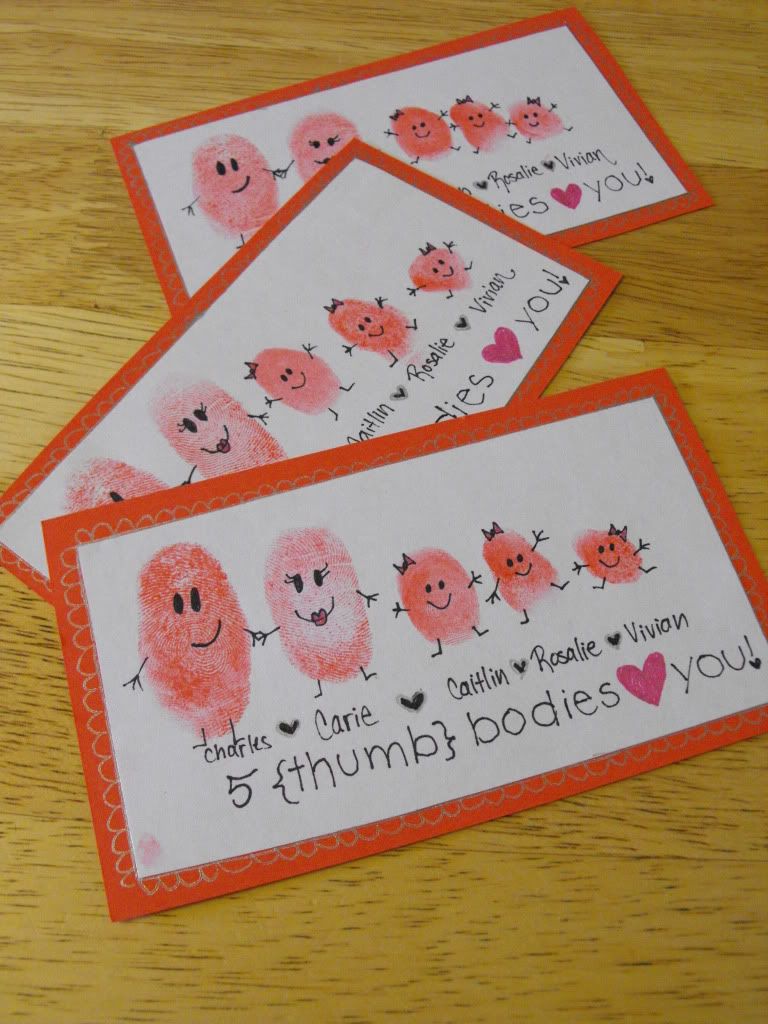 That left making the goodies and cards for the rest of the family! I decided to get my niece and nephews a can of Strawberry Crush and attach a twizzler shaped like a heart to it with a sign that read, "I've got a CRUSH on you! You make my heart TWIZZLED!" I didn't even get a photo of them... I realized this after I handed them out! (Sorry!) But the kids loved them! Especially the soda!
The only photo I got was my oldest daughter holding up a twizzler heart! She's so gorgeous!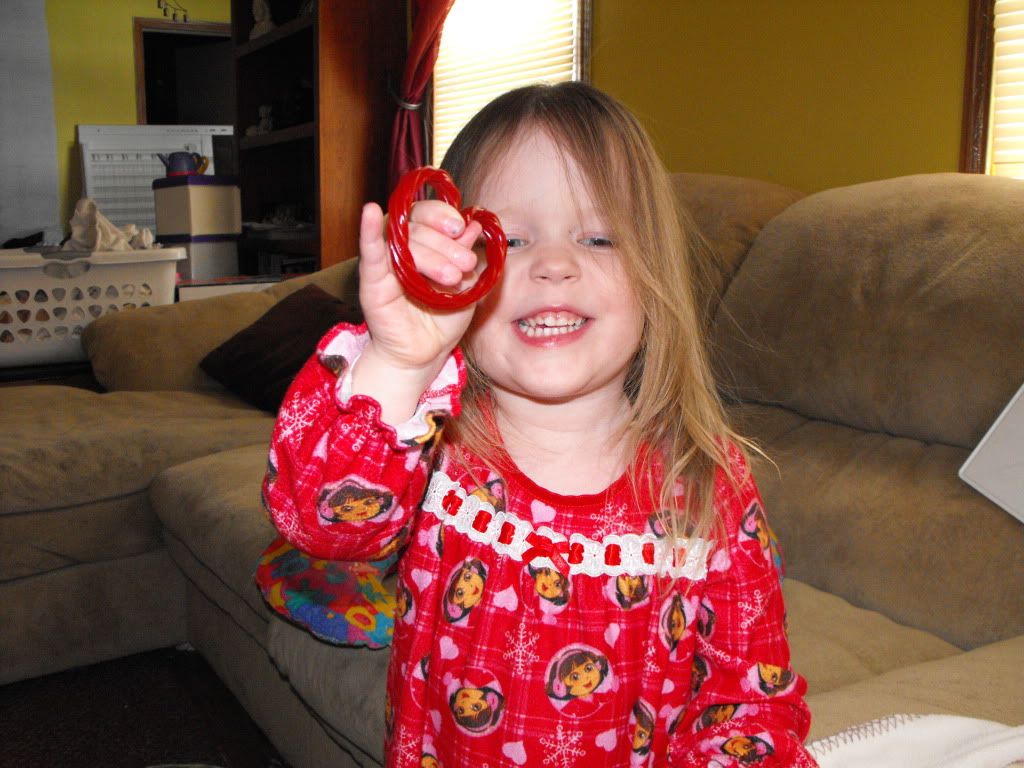 I decided to make some Strawberry Conversation Heart cake bites for the adults. I found the idea
here
. I've been making cake balls and cake pops quite a bit lately, but those things are SO, SO good! And super addicting! I gathered all I needed to make them.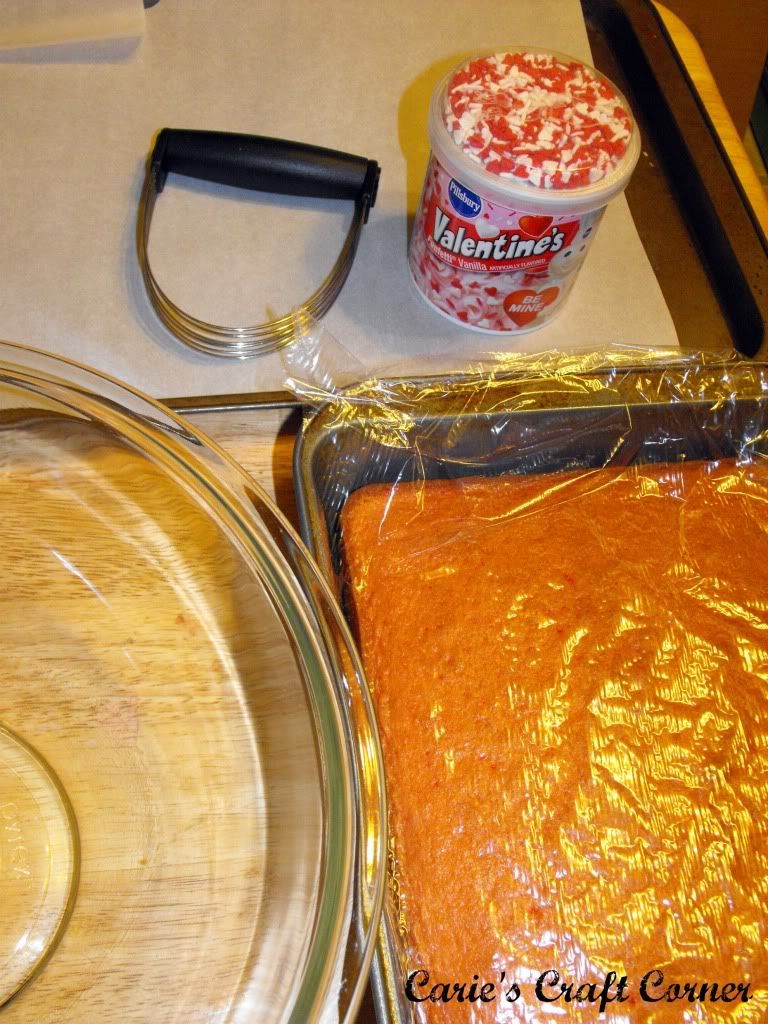 I baked a strawberry cake, bought strawberry frosting (Although I think I'll use Vanilla next time. The strawberry cake and frosting made it a little too strong tasting.), got my large bowl ready to crumble the cake, put out my cookie sheet with a line of parchment paper on it, and I got my pastry cutter! That thing is SUPER awesome at breaking apart the cake!
I rubbed the cake together, then went through the bowl and used the pastry cutter to mash up the pieces of the cake that didn't get broken up all the way.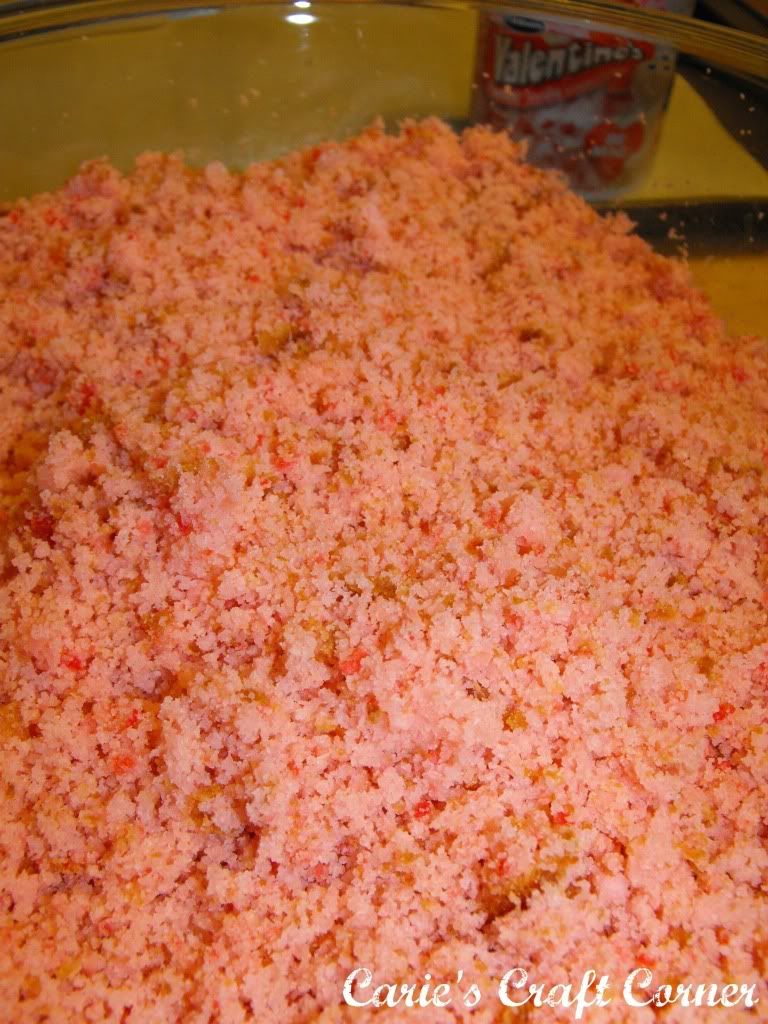 I mixed in about 1/2 the can of frosting until I got the consistency I like, which is like meatloaf. Not stuck together in a ball, but easily shaped and formed. I got out my smallest heart shaped cookie cutter and pressed a small amount of cake into the shape and pressed down on it.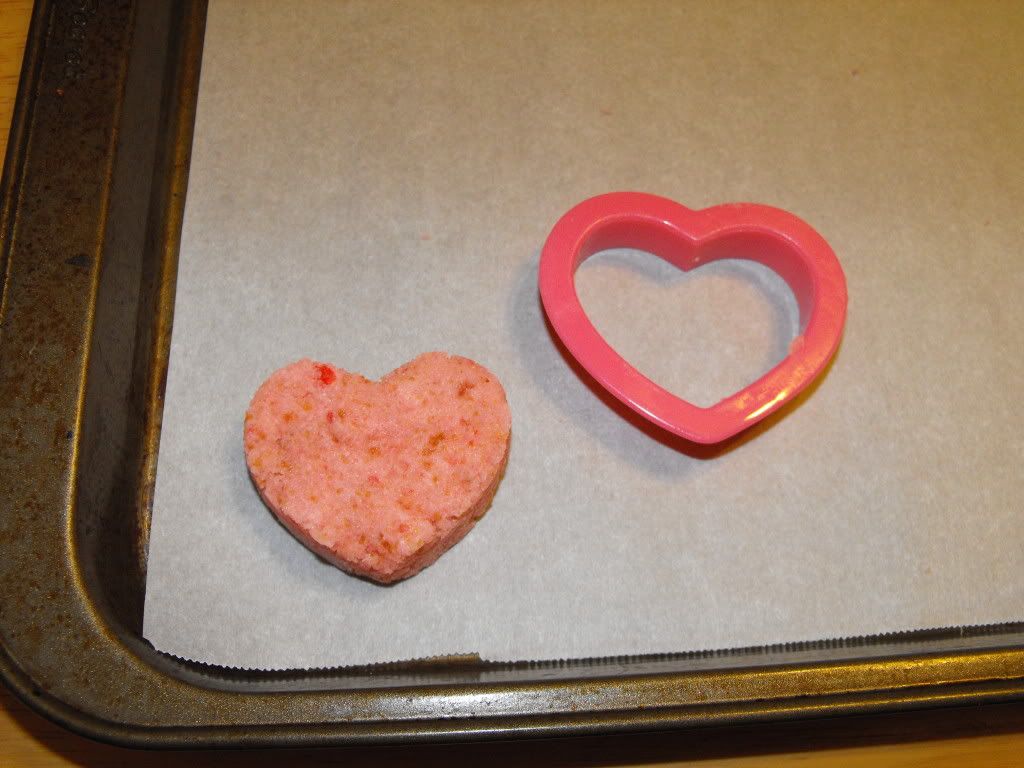 Using the heart shape made about 54 cake bites. I went through and softened the edges of the hearts as I made them. I covered them with saran wrap and placed them in the fridge for about 5 hours.
I got everything ready to put the candy melt on. I bought pink, yellow, and green candy melts. I already had some white candy melts. I also found some edible ink pens (FINALLY)!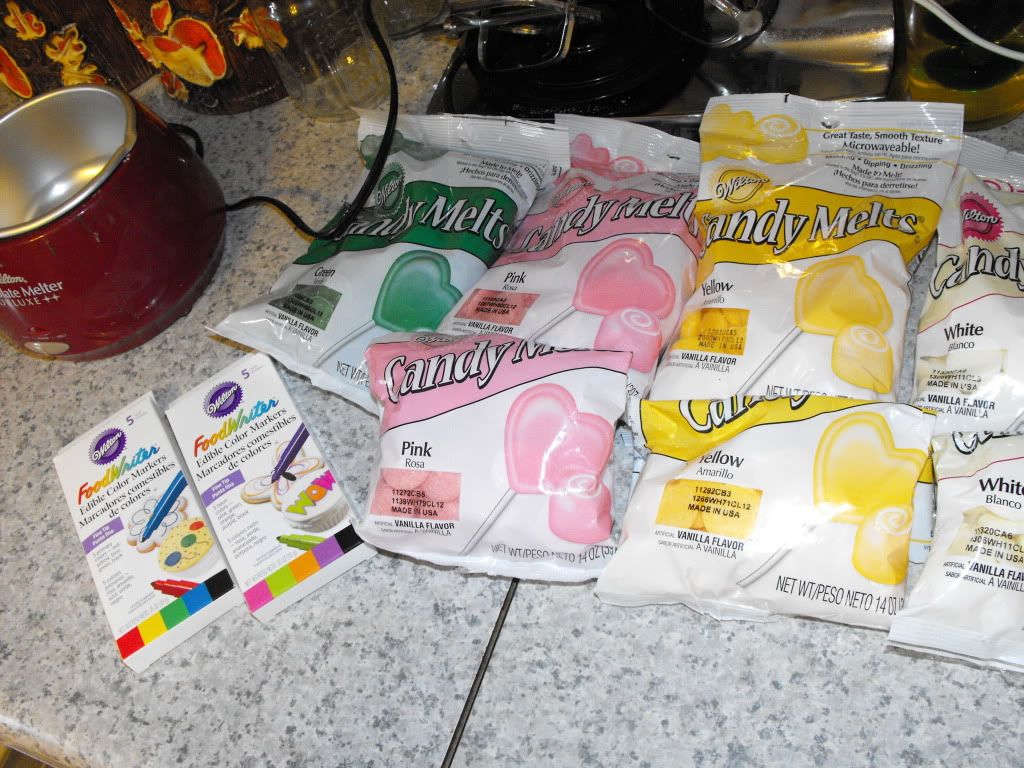 I melted the candy. Pink. Yellow. And what was left of the yellow, I added in the green with a few pieces of white.
I pulled out 4 hearts at a time and I used two spoons to dip the cake hearts into the candy melt one at a time. I placed them on parchment paper and let them dry.
Once they were all dry, I used the red edible ink pen to write on the pink hearts. I had a lot of trouble writing on them. I don't know why... it was really frustrating. I had to make each letter by dotting the pen over and over again on my letters. I decided then, to only write on the pink hearts. I didn't have the time I needed to write on all the hearts.

I would've like to have written on all the hearts, but they turned out alright! I put them all on a plate and wrapped them in saran wrap. I wrote on a heart shaped paper doily and handed them out to the couples in our family!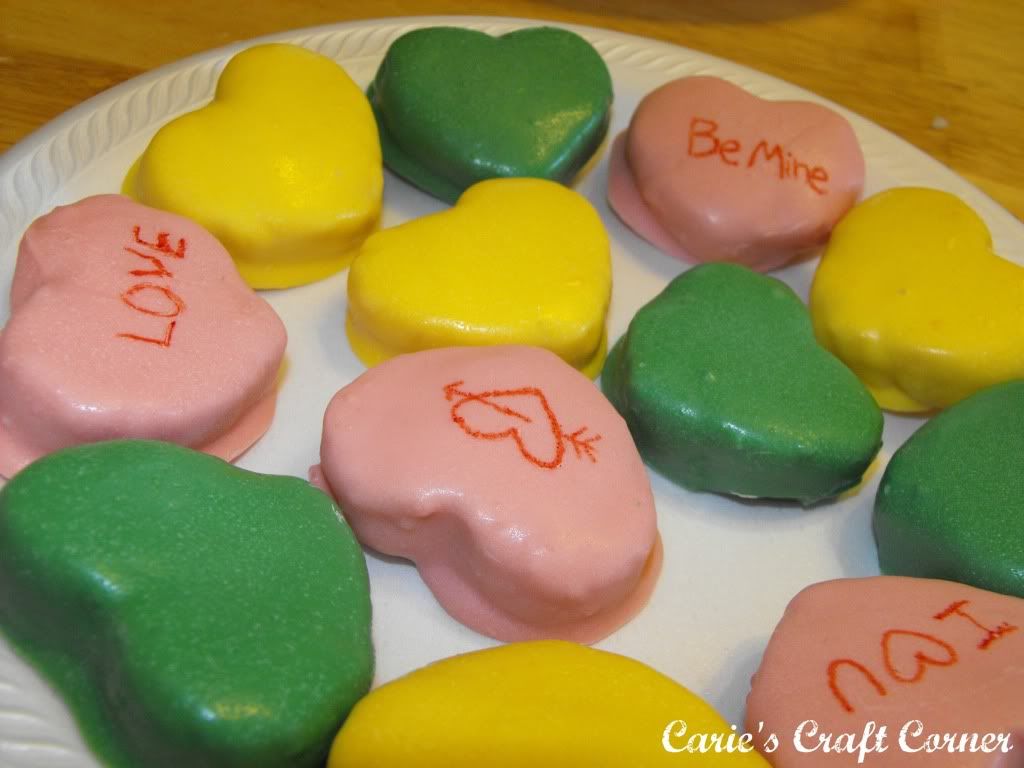 Everyone really enjoyed the cake bites! I had a lot of fun making them, too! I got some awesome compliments on the thumbprint Valentines! I am excited to try new things next year! I have a lot of ideas going through my head already!
I am excited for St. Patrick's Day and I have some fun ideas for that holiday! Until then, I hope you all had a wonderful Valentine's Day!
Happy Crafting/Making/Baking,