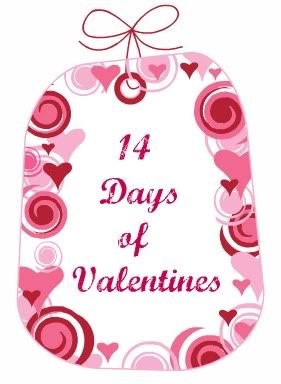 14 days of personalized gifts? Sounds good to me!
I have seen a few different ideas for this and I decided to pick 14 gifts that I knew my husband would love. I searched and searched, and finally found some that I loved! I ended up only finding 10 that I knew Charles would like, so I had to wing the last 4! There they are!
DAY 1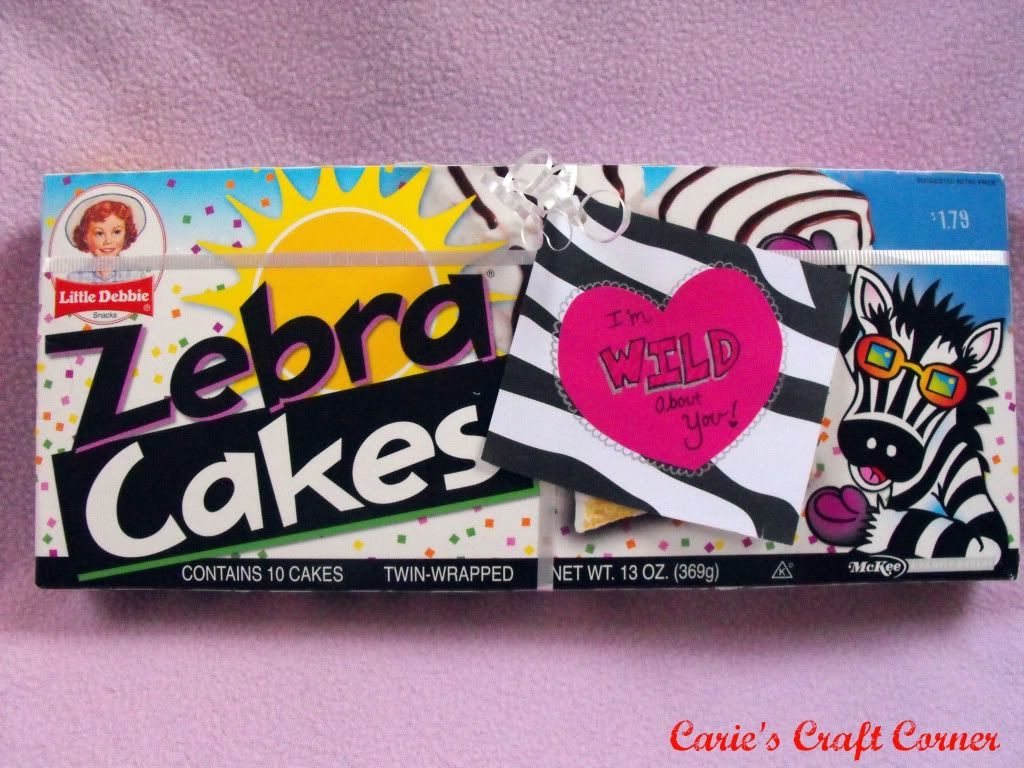 "I'm WILD about you" -- Zebra Cakes
Charles LOVES these things! I thought the Zebra on the front was perfect! It looks like the Zebra is holding the card!
Day 2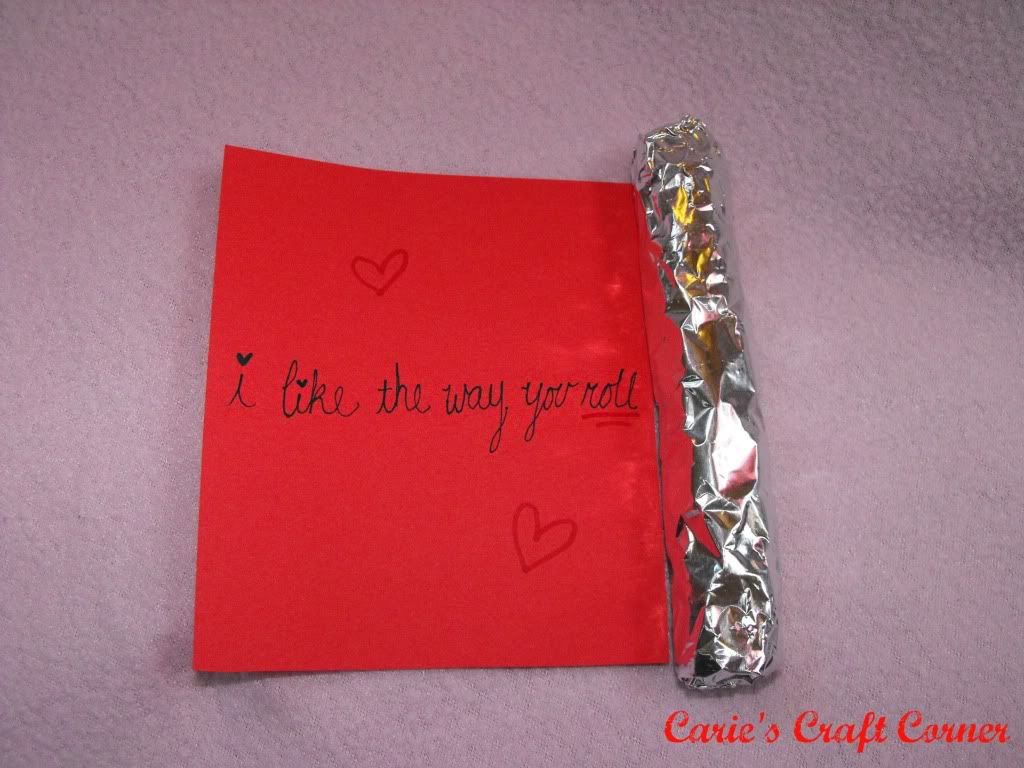 "I like the way you roll" -- Rolos
The store didn't have an individual size package, and I didn't want to buy an econo-size box of them, so I had to buy a bag of Rolos and stack them on top of each other. I wrapped them with aluminum foil. It was a lot harder to do than I thought... good thing Charles likes Rolos so much. Otherwise I wouldn't have done it!
DAY 3
"Valentine, You're so GOOD to me!" -- Mr. Goodbar
I origionally wanted to do the "You Rock" Pop Rock thing, but our store was clean out of them, so I had to imporvise while I was in the candy aisle. I found this huge bar for $0.98 and couldn't pass it up!
DAY 4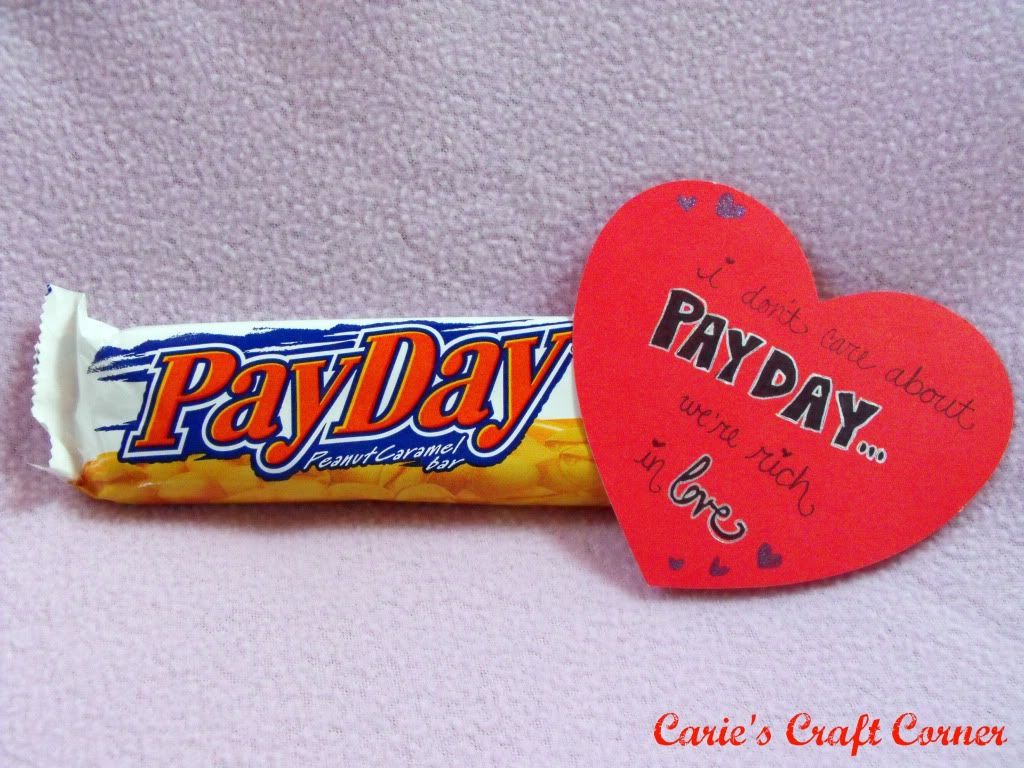 "I don't care about PAYDAY... we're rich in love" -- PayDay
Now, this isn't entirely true! I care very much about PayDay... but I thought the word play was cute! That and Charles could probably eat one of these each day for the rest of his life and be happy. And fat...
DAY 5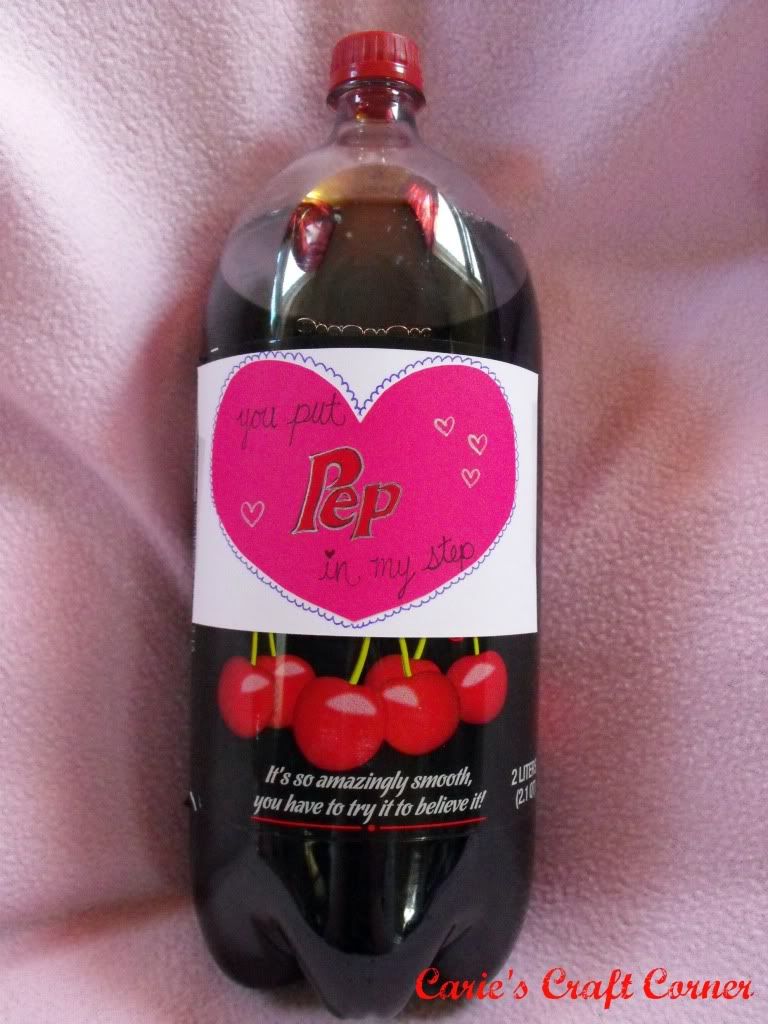 "You put Pep in my step" -- Cherry Dr. Pepper
This is one of Charles' favorite pops! He usually gets the 2 liters so that he can have more for less!
DAY 6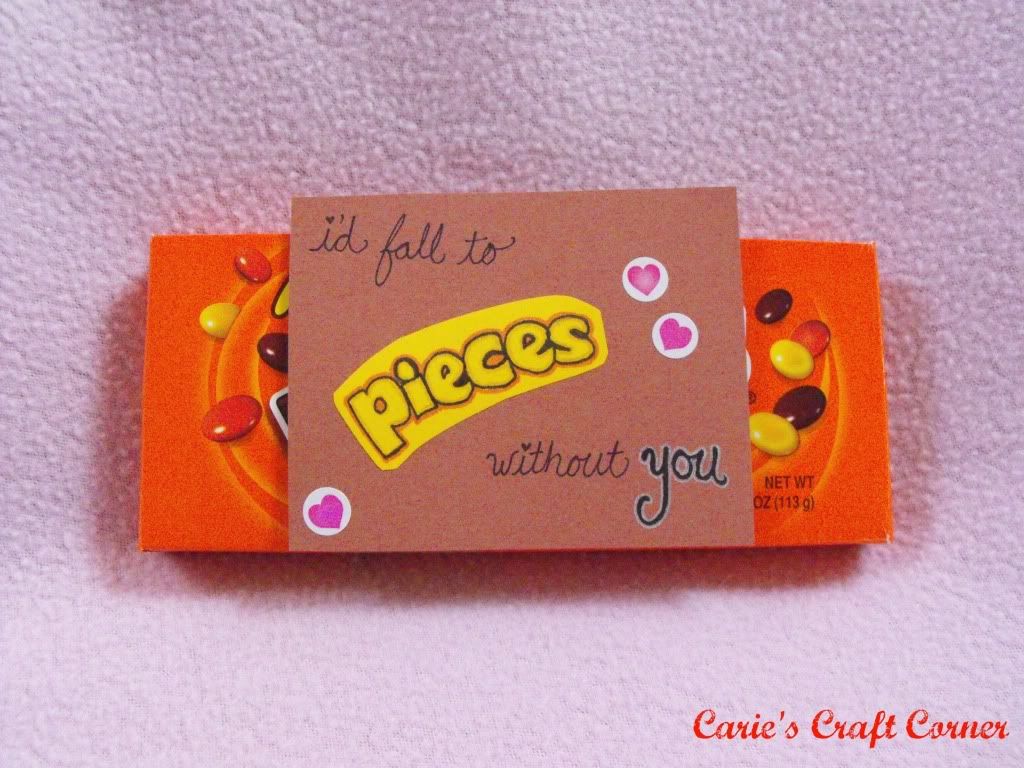 "I'd fall to pieces without you" -- Reeses Pieces
Whenever we go to a movie, this is Charles' candy of choice! They are super addicting!
DAY 7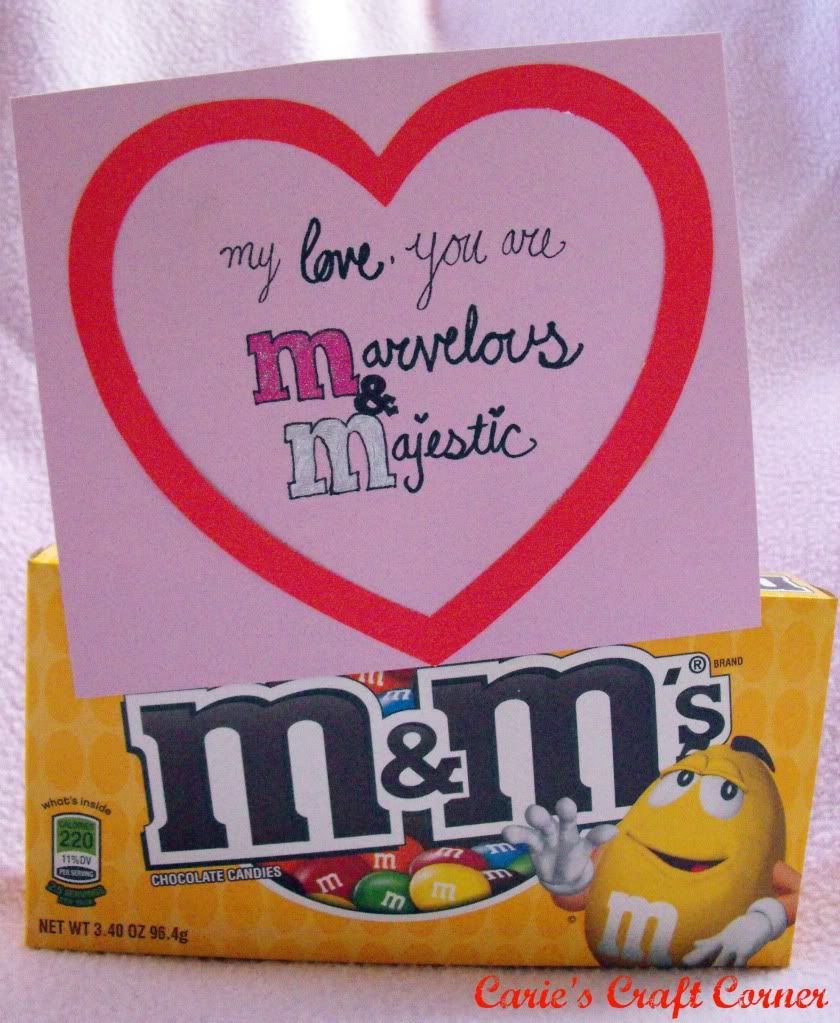 "My love, you are Marvelous & Majestic" -- M&M's
M&M's... yes. Peanut M&M's? Even better! It does matter what type of M&M I get for Charles!
DAY 8
"Valentine, I 'chews' you!" -- Starburst Flavor Morph
The first time Charles had these, he told me that I shouldn't eat them fast. He said that I had to "chew" them slowly so that I could enjoy the flavor! I thought this was a perfect candy to go with the little saying!
DAY 9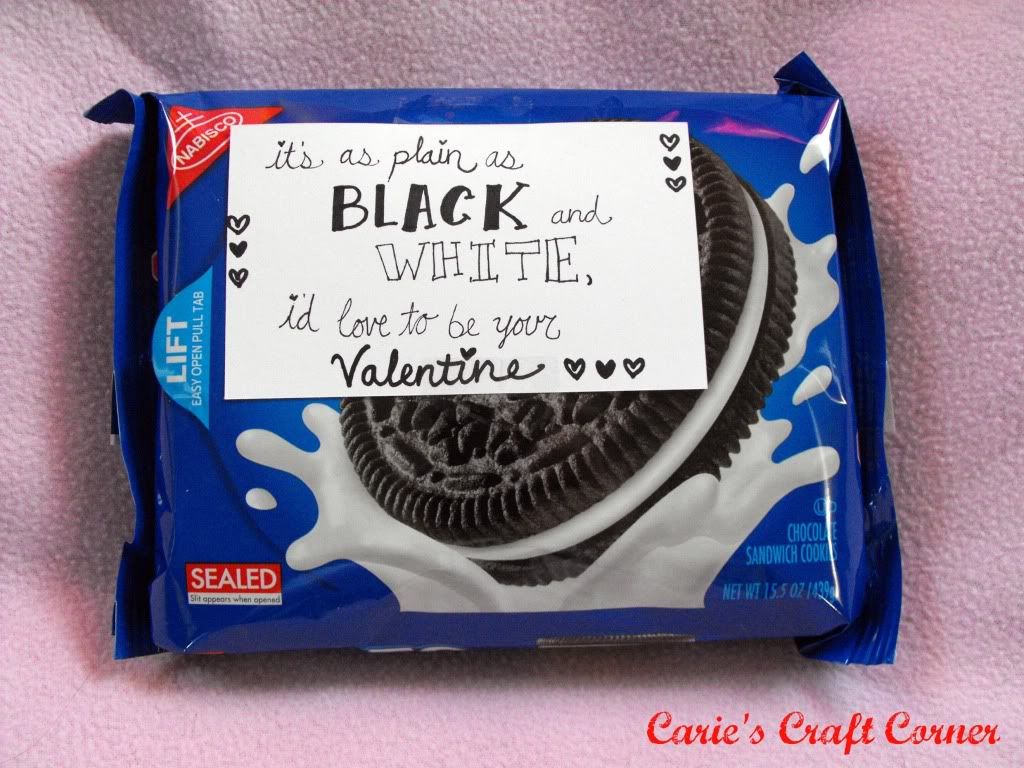 "It's as plain as BLACK and WHITE, I'd love to be your Valentine" -- Oreos
I have to watch Charles when he eats these... otherwise I won't get any!
DAY 10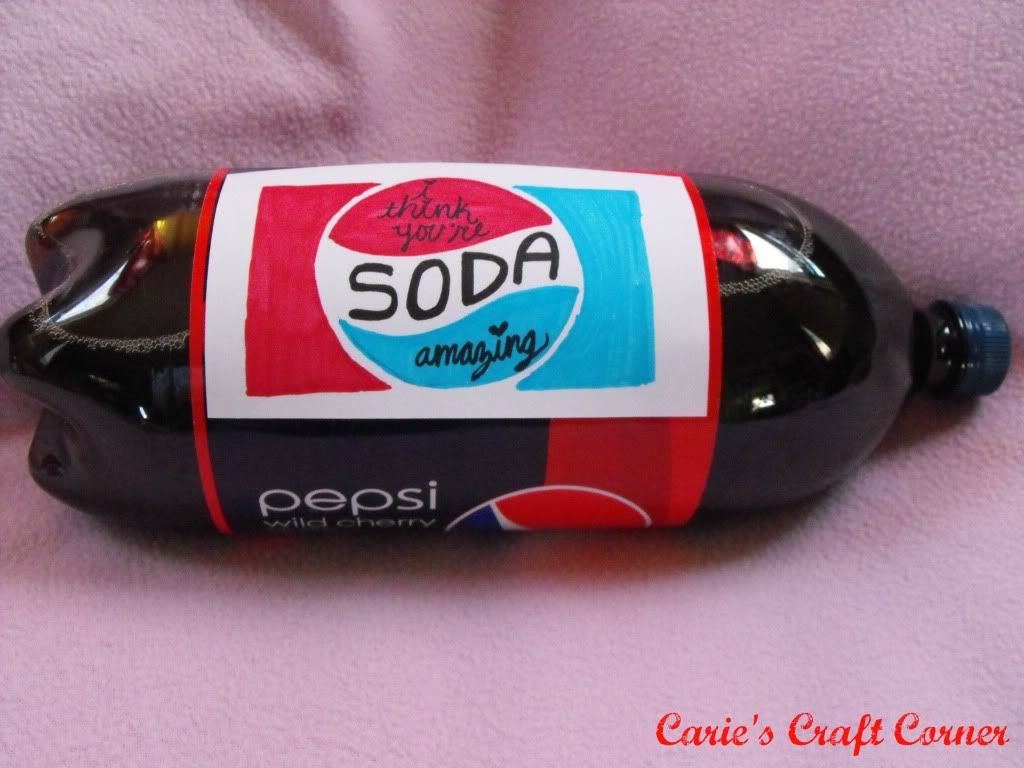 "I think you're SODA amazing" -- Wild Cherry Pepsi
I know that technically, Pepsi is a Cola, but I thought that since people call pop a lot of different names, I could swing the "soda" on his card! Pop, soda, cola, bubble water, etc. All he's gonna care about is the fact that it's pop!
DAY 11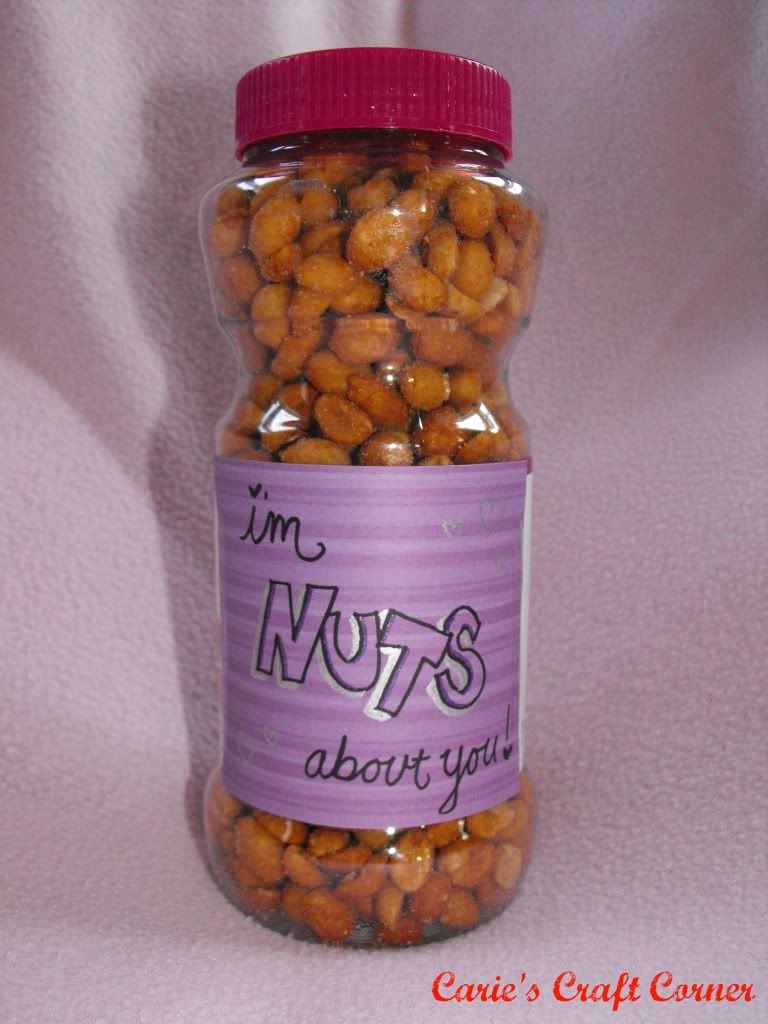 "I'm NUTS about you!" -- Honey Roasted Peanuts
Charles loves these kind of peanuts! We usually buy the econo-size container, but I wanted him to be able to take the snacks and candy I'm giving him to work.
DAY 12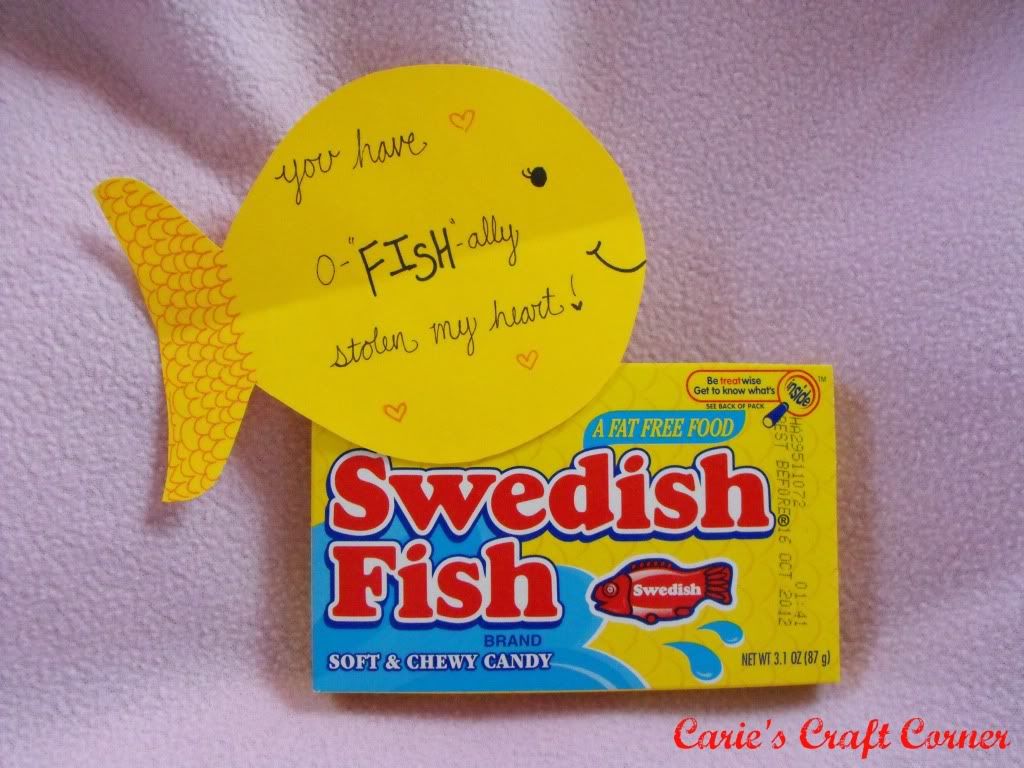 "You have O-'FISH'-ally stolen my heart!" -- Swedish Fish
These are amazing! I don't know what it is about Swedish Fish... but they just are!
DAY 13
"Thank you for working EXTRA hard for us" -- Extra gum
This one is from all of Charles' girls! Me, Caitlin, Rosalie, and Vivian! I am so grateful that he is willing to go to work so that I can stay home with our daughters. Best. Husband. Ever.
DAY 14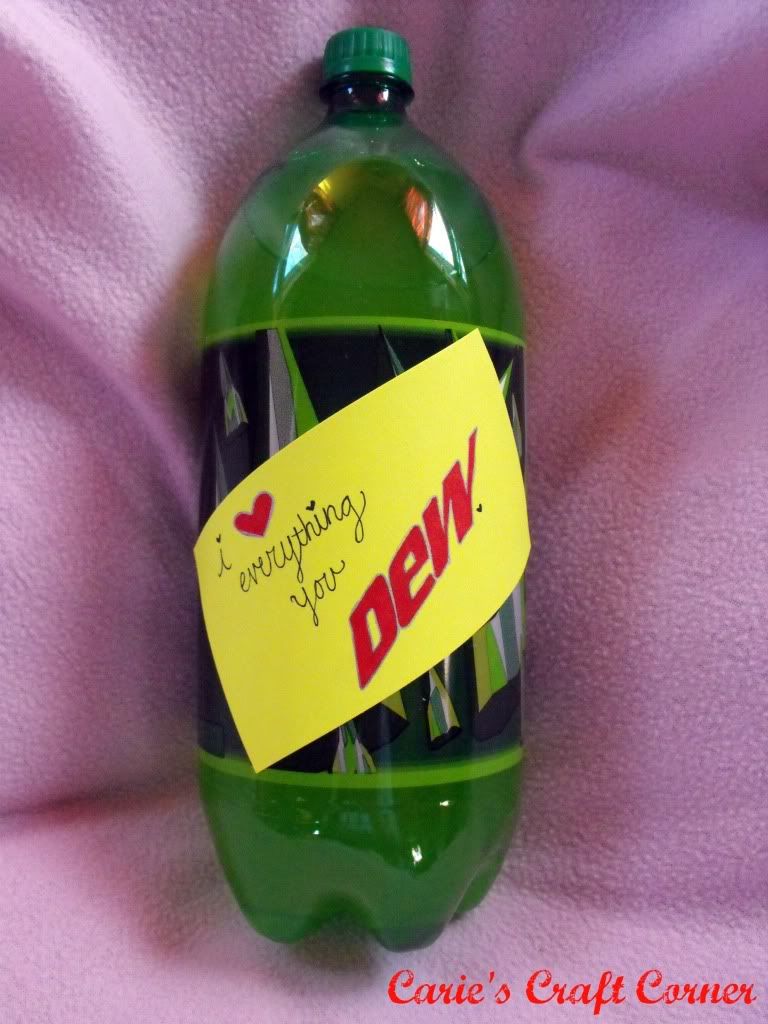 "I love everything you DEW" - Mountain Dew
I saved his most favorite thing for the last day! I know he'll be waiting for this to show up on Valentines morning, but no matter what, he'll be in glorious Dew heaven!

No matter what you choose to do for your loved one(s), I recommend making the cards by hand! Nothing means more to my husband than knowing I took the time to make things by hand. It's the gift of time. And time is spelled L-O-V-E!
Happy Valentines Day!
Happy Gifting!