When my friend Deidre was having a surprise birthday party, I knew I wanted to make her something special! I'm the kind of woman who would rather make you something than buy you something. I love to cook and create fun foods to eat and enjoy! Deidre loves owls, so I was going to make her some Owl Cake Pops, but with a busy weekend, I ended up turning to my Pinterest and using a fun idea for making Owl Cupcakes, instead. I found a few different ideas, some are seen
here
and
here
, but there are a lot of different ways to make these. I stuck with a simple way! Being the mother of three kiddos under the age of 3, I only have nap time to complete tasks! I'm lucky to get 2+ hours! My camera had a smudge on the lens, so some of the pics are a little blurry, I'm sorry! I didn't know it when I was taking the pictures.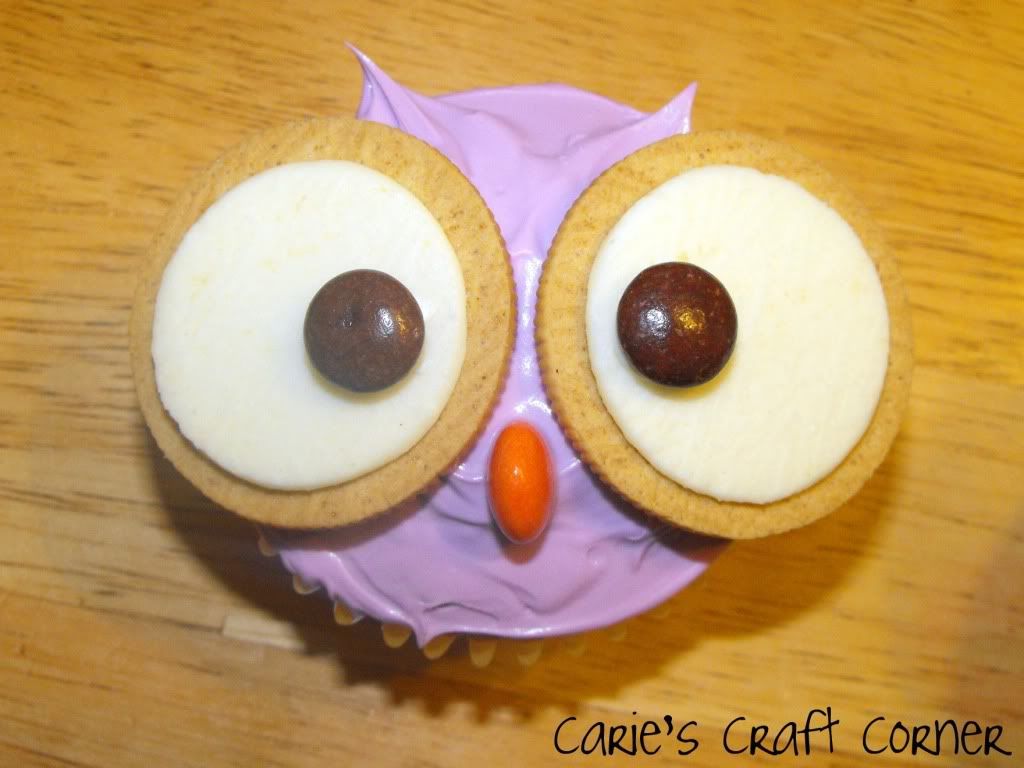 I decided to make these cute little guys, or gals, using:
1 box cake mix, prepared into 24 cupcakes
1 tub frosting of your choice, I used Vanilla
Food coloring of choice, I used Purple (Optional)
1 box or bag of Reese's Pieces (Or M&M's), 48 Brown pieces and 24 Orange pieces
48 Golden Oreos, regular stuffed, not double (You can use regular Oreos if you want)
I set out everything I was going to use to make these fun cupcakes.
I set out all my Oreos and set two brown Reese's Pieces on top of each. There weren't enough golden Oreos to make all 24 cupcakes, so I had to grab a few of our regular Oreos from our personal stash! I carefully twisted each Oreo making sure that the cream was all on one cookie and not the other. I set the empty cookie back in the Oreo package and set the side with the cream down. I used a small dab of white frosting to attach one brown Reese's Piece to each cream side cookie.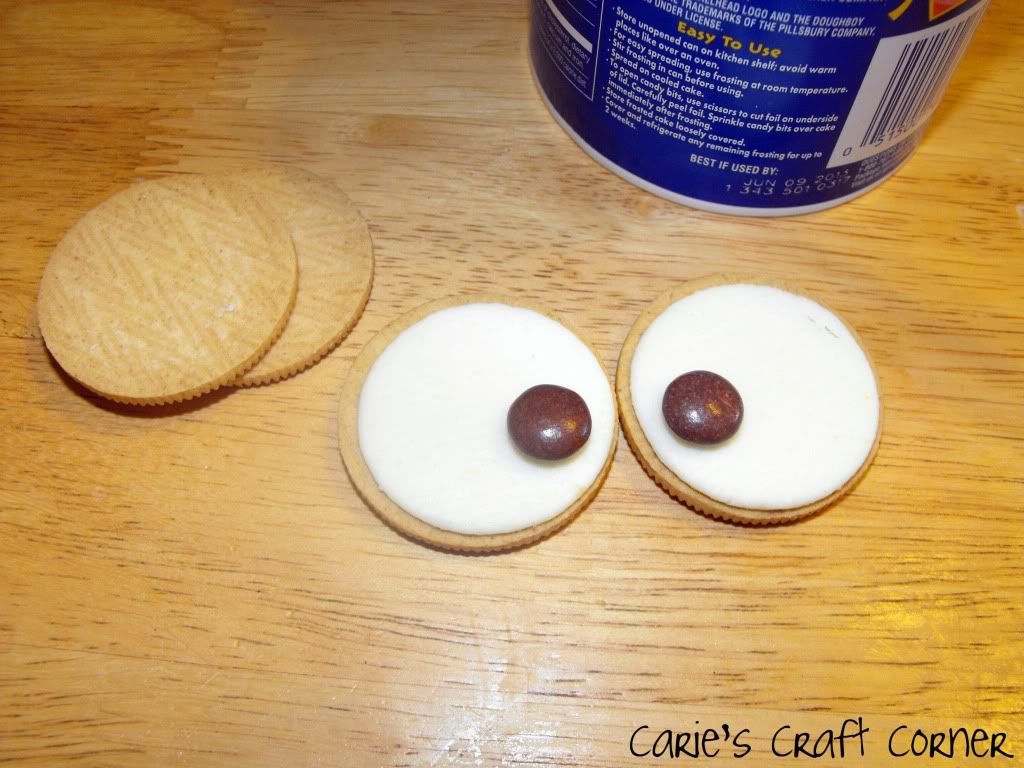 After all the pieces were attached to the Oreos, I used purple food coloring to make purple frosting.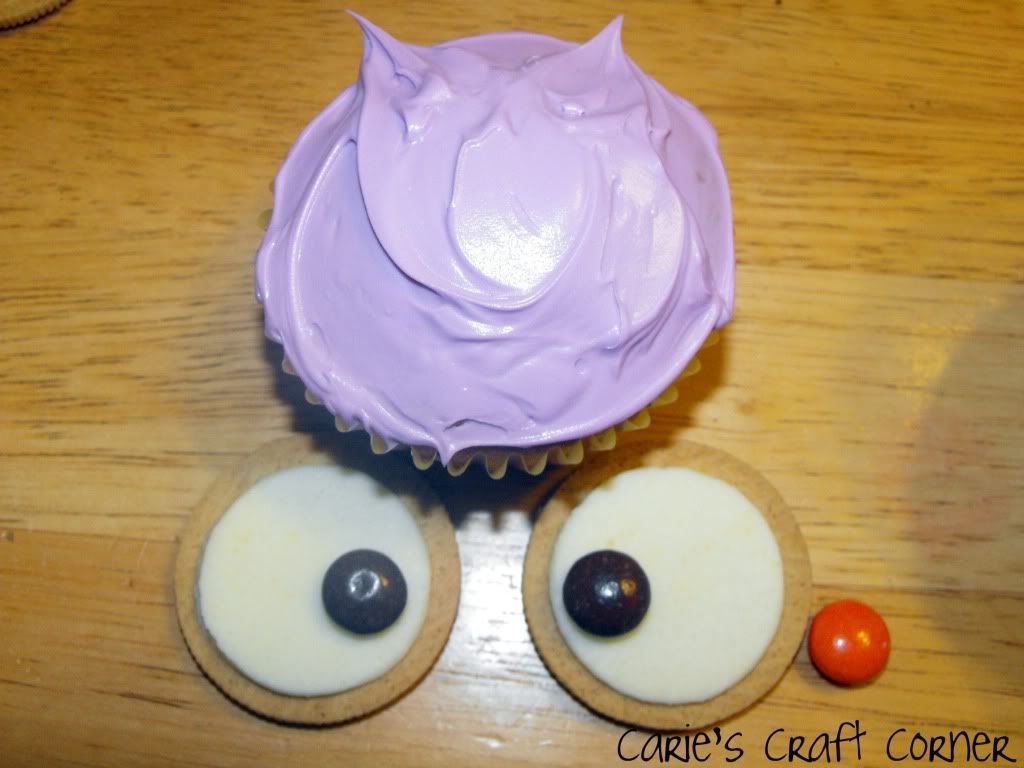 I frosted one cupcake at a time. I used the tip of my butter knife to make the ears. I pressed down a little and pulled up to make two ears. I put a dab of frosting on the back of each eye and placed them next to each other on the cupcake. I placed an orange Reese's piece sideways below the middle of the eyes to make the beak. This is what it should look like: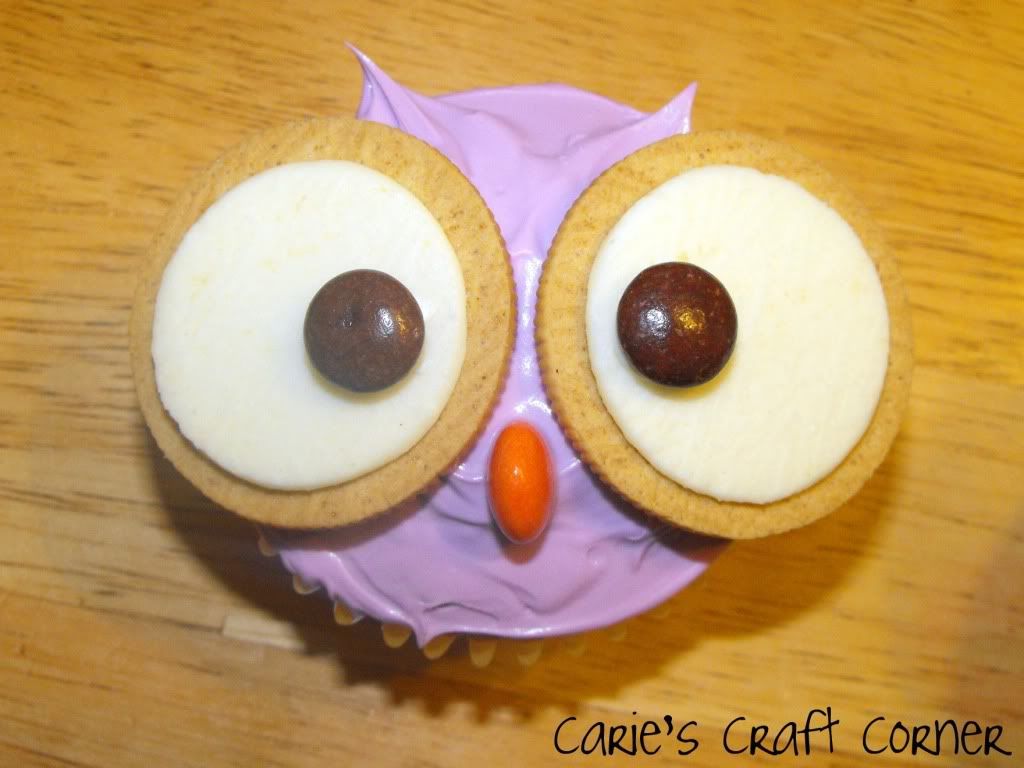 I had a lot of fun making these little owls! I got some rave reviews on them, too! It took me 2 hours to make them, but you can always have a few helpers to make them faster! I know my girls would've loved to have helped! Here are what they looked like all together!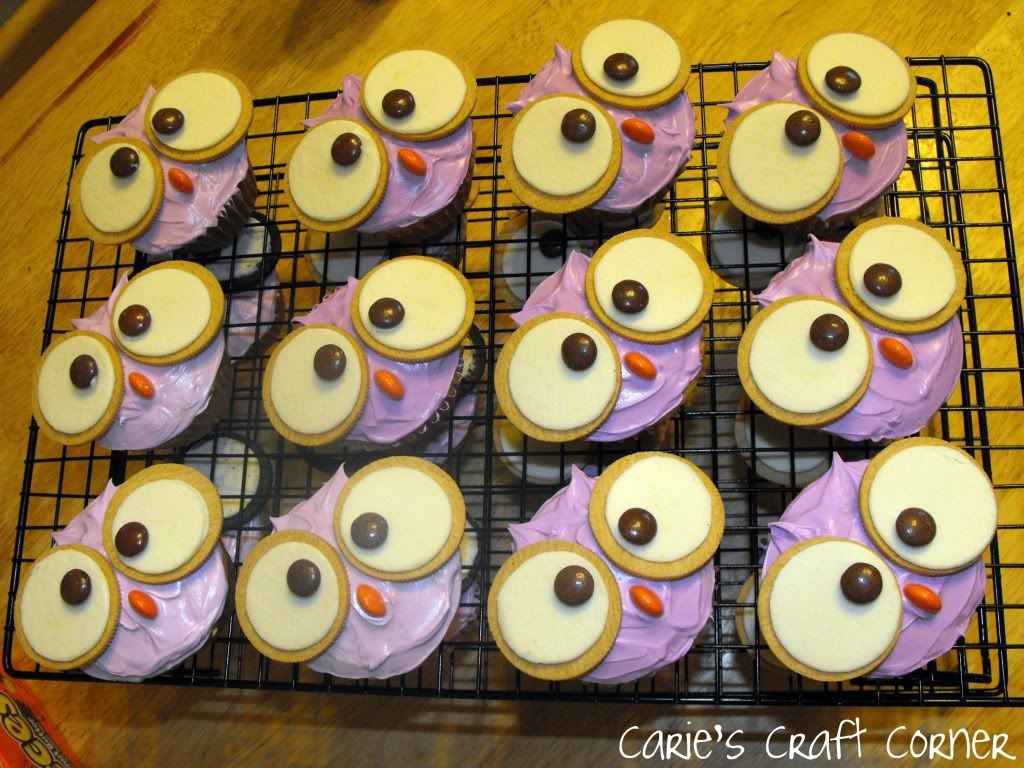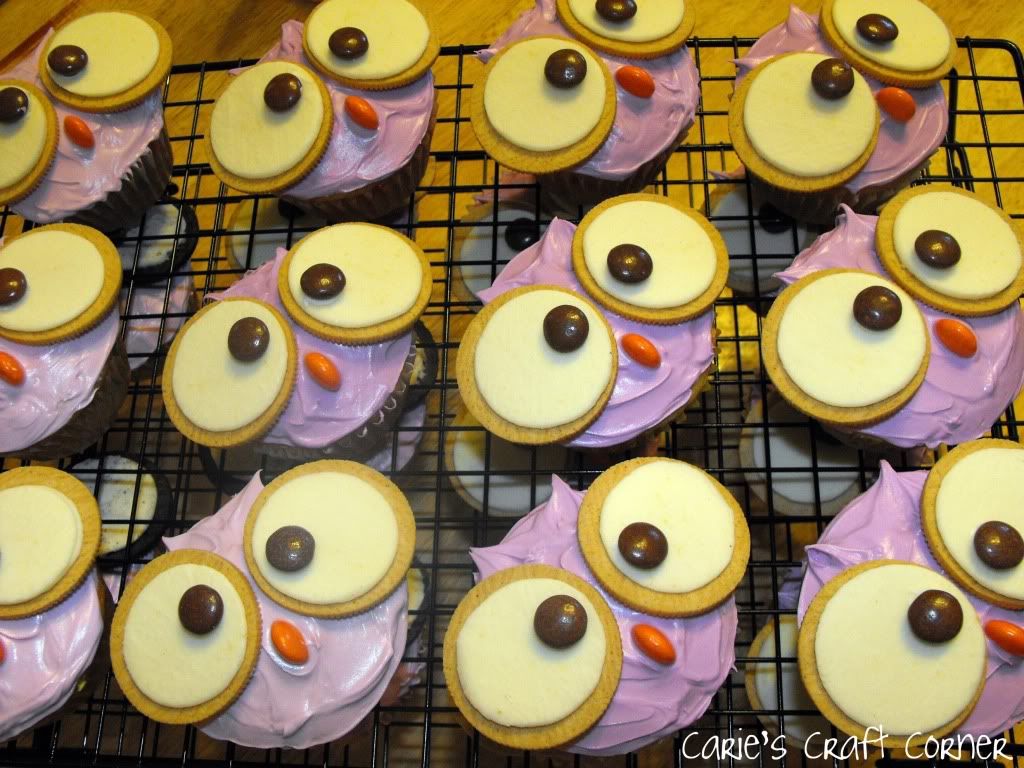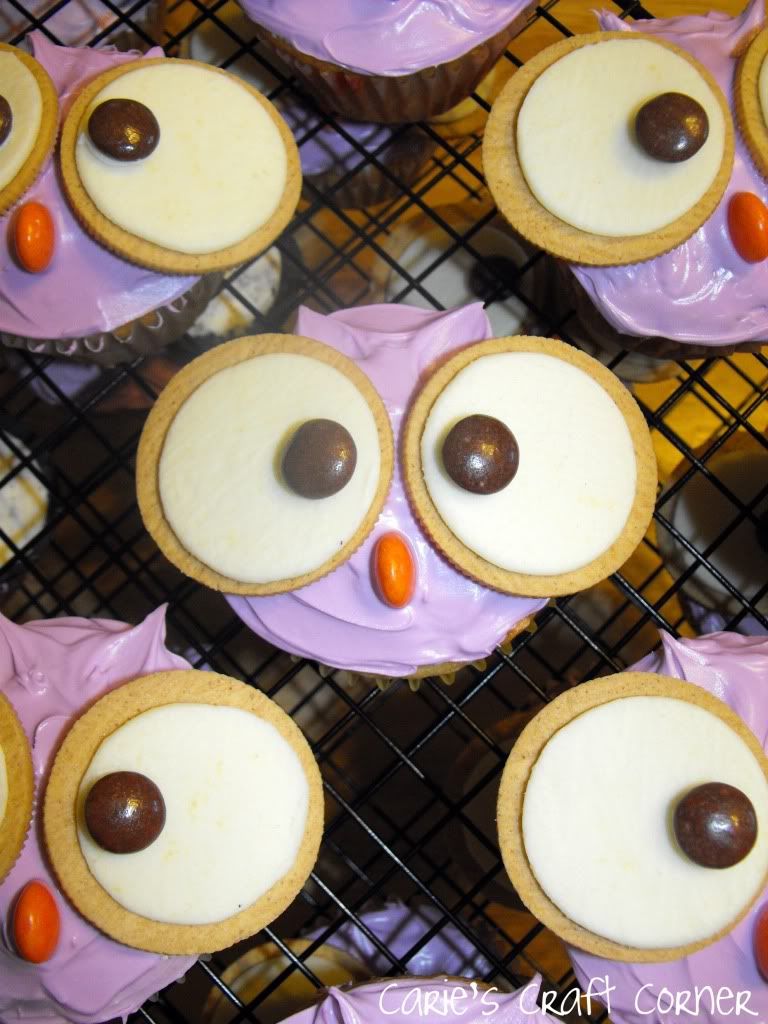 I couldn't forget to put a "Happy Birthday Deidre" sign on the cupcakes! I thought about it for a minute, then it hit me! I knew exactly what to do! I made one of the owls hold her sign!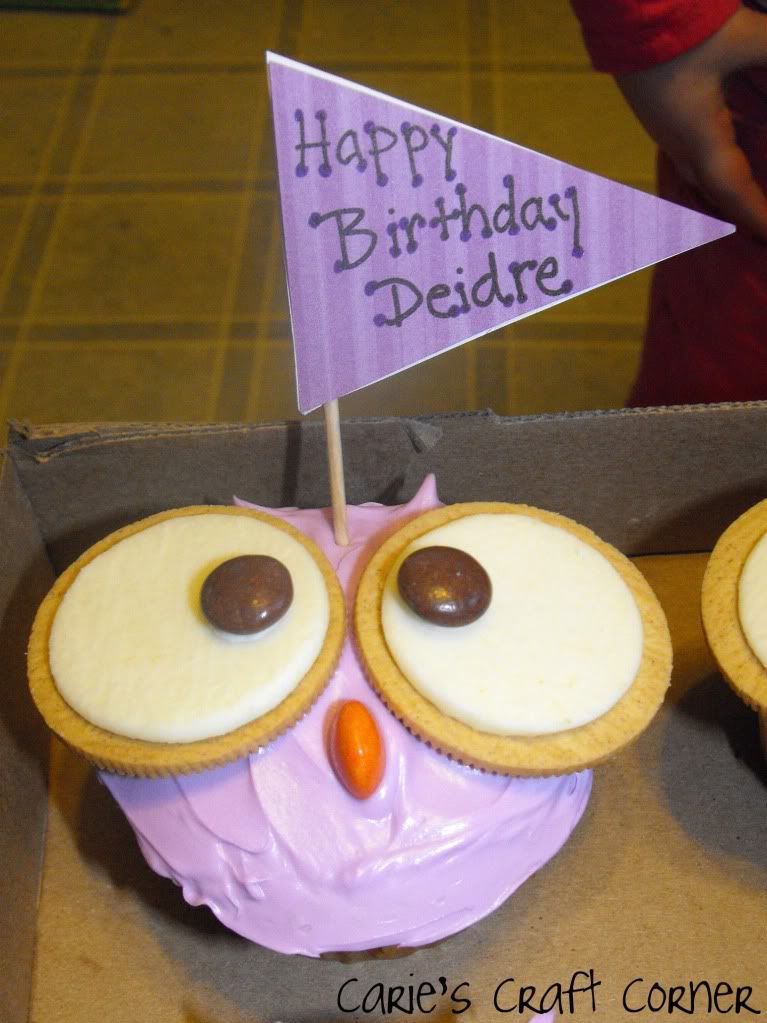 I hope you come up with some creative new ways to make your own owl cupcakes! I'd just love to make some in pink, blue, green, and orange!
Happy Baking!