My oldest daughter turned 3 a few weeks ago and we celebrated her birthday with a Beauty and the Beast party!
I've recently discovered digital scrapbooking and came across a site that has free kits to download. I let my daughter pick out the kit she wanted and she went with the
Energy
kit! I loved it! I knew it'd go really well with Belle and it had a ton of colors in it! I searched the internet for a good site with Disney clip-art. I found some really stellar ones! I've pinned them onto my
Fun Stuff
board.
I made her invite first. She picked out the Belle she wanted and I did the rest! Here is the final design!
I think it turned out great! I worked really hard on it! I'm still new to digi-scrapbooking, but I've come a long way! I even made cupcake toppers using the same software! They were a hit!
I broke down a bought a Wilton Dress Cake Mold and used it to have a trial run for the Belle cake. It turned out great, but I needed more batter to make the dress fuller. The cake was easy to decorate. I'm not sure what tip number I used, but I used a medium size petal tip. Here's my amazing "how-to" that I made in paint!
I used a toothpick for step 2!
This is how the cake turned out! I used frosting to make her top. I just piped frosting onto her body and smoothed it out with my finger dipped in water. I replaced the doll pick that came in the dress mold kit with Belle's head from another doll. (You can see that the skin tone is different.) After the party, I simply switched the heads back and gave my daughter her new Belle doll to play with! The cake was super easy to make!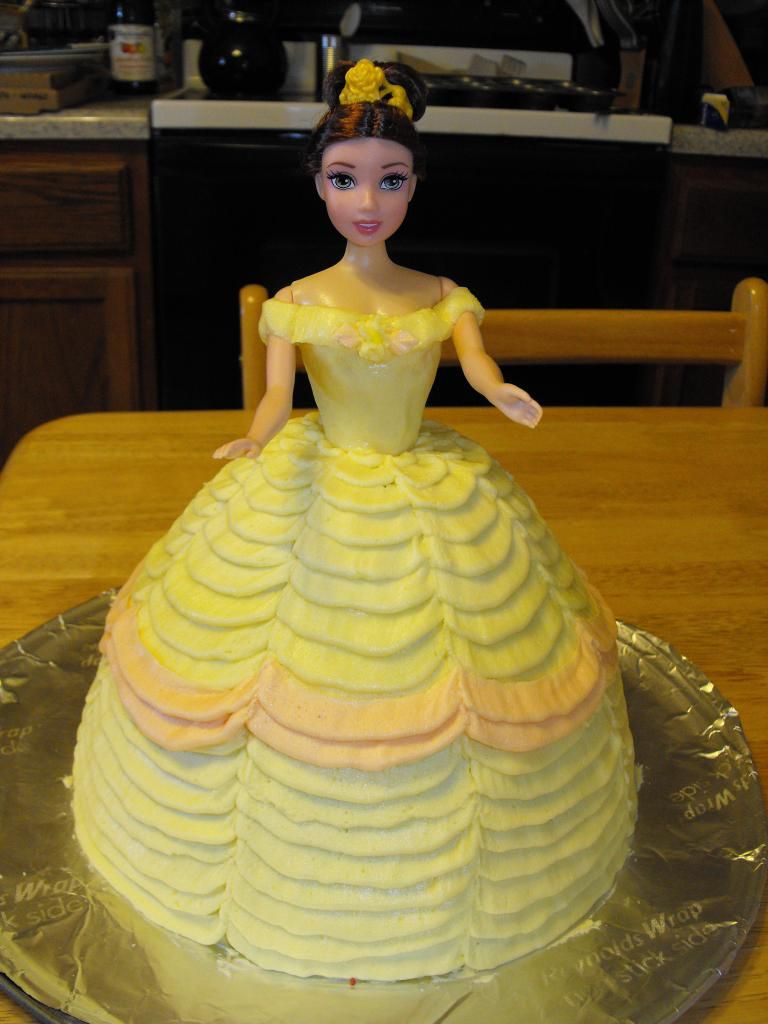 I made 24 pink cupcakes with "sparkles" on top per the Birthday Girl's request! They turned out really well and the party was a hit!
I had a lot of fun creating everything for my daughter's party! I'll be creating some Little Mermaid stuff for my next daughter's birthday in May!

Happy Digital Scrapbooking/Baking/Frosting/Creating,